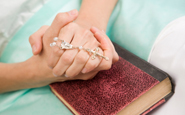 When is it okay to pray with a patient? We felt it was time to explore the issue when we received this letter from a recent graduate who wrote to Scrubs about her dilemma.
"I had a very ill patient who wanted to pray with me, but I felt weird participating in prayer, especially because some of my colleagues were present. I didn't want to offend anyone who may not have my same religious beliefs or even be religious at all." – Gretchen
Gretchen, you are not alone. Even a seasoned nurse can have moments of doubt when it comes to prayer. Gloria G. King, RN, BSN, of Georgia writes:
"I have been a nurse for 27 years in critical care and trauma. One night I just happened to be in the ER when they brought in a 43-year-old male having an acute MI. He was alone, frightened and in a state of panic. All the nurses and staff were working on his physical needs.
"I decided to stay, hold his hand, and see if I could help calm him while the staff did their work. Suddenly, he looked at me and said, 'Pray for me, please, now, pray for me.' I admit, I felt a bit awkward. I am a Christian, so I had no problem with praying, but the room was full of the noise, hustling and commotion of ER staff stabilizing a patient. My staff and peers were all present. I did momentarily wonder if it was okay to pray, here, right now. I didn't want to offend anyone in the room…"
What should she have done? As a new nurse, you know you want to give your patients what they need without hesitation. So we've asked Revs. Dennis Kenny and Amy Greene of the Spiritual Care Department at Cleveland Clinic what they feel the role of prayer is in hospitals and how a nurse can incorporate prayer into his/her practice.
"It's interesting (and heartening to us chaplains) that a recent Timemagazine cover story on faith and healing claimed that 94 percent of patients in a survey said it would be all right with them if their doctors asked about their religious beliefs. This seems to tell us that people do naturally see the connection between their faith and their health.
"Prayer is positive (hopefully) energy directed toward the Source of all Wisdom uttered on our own or another's behalf. Those who engage in it know its benefits without having to read statistics. Unless it's done with malicious intent, it's never harmful."
So should a nurse pray with his or her patient?
The reverend says: "As the persons in charge of spiritual care and chaplaincy training at Cleveland Clinic, we believe definitely "Yes, if. . ." that is, "if you can be open to believing that there is more than one right way to pray." If your way of praying (including things that may seem like obvious 'givens' such as how to refer to the Almighty) is the only one you're comfortable with, you might want to consider a few tips before you proceed."
Tips for praying with your patients
The most important thing is to clarify what will be the most helpful for the patient, rather than what you think they need. This is good practice anyway– assume nothing.
Ask directly what the patient wants to pray about, and allow the patient to speak his or her own prayers, too.
Have a conversation about the patient's beliefs– ask where he or she sees God in the current crisis.
Ask about which images of God would be most helpful for the patient at this time. Is it the Good Shepherd? The Holy Spirit? Allah the Most Merciful? The answer might surprise you.
The reverends agree: "Bottom line – be respectful, don't impose, don't assume anything and then, go for it."