Which cities have the most job opportunities for nurses?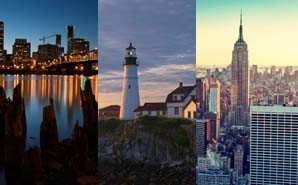 "Where in the U.S. is the best city for nurses?" With the current state of the economy and conflicting reports on the nursing profession (if there's really a nursing shortage, how come it's so hard to get a job?!), it's a question we're willing to bet many nurses have asked over the past few years. In fact, it's a question Beth Sager recently blogged on for The Nerdy Nurse, too.
We're constantly on the lookout for the best places for nurses to work, and if moving is an option for you, read on for some examples of great places to call home….where your profession is in demand!
With an aging population, there are nursing opportunities everywhere, but why not follow the snowbirds down south and enjoy a little sun and surf as well as growing employment. Fort Walton, Florida has a little of both and is a wonderful place to start a nursing career. Unlike some northern states, Florida's population is growing and with it the need for health care workers in general and nurses specifically.
If the heat and humidity aren't your idea of a good time, then Boston might be more to your liking. For state of the art health care, there is no place better than Boston. Hospitals here include Beth Israel, Brigham and Women's Hospital, and Massachusetts General Hospital. In the past few years, the health care industry here saw more growth than any other area.
One city you may have never considered is Sioux Falls, South Dakota. With a low unemployment rate in general and a $2 million gift to local hospitals, employment has been on the rise for nurses just starting out and those who are continuing their nursing careers. The city was also ranked as one of the best small cities for careers for the past seven years.
If the idea of a college town is more to your liking, think about Madison, Wisconsin. You'll find the University of Wisconsin there, as well as several world-class hospitals. Not to mention the unemployment rate is at a low 2.6%. You'll also find plenty of home grown entertainment, shops and restaurants.
To read the rest of this article, head on over to The Nerdy Nurse. Then be sure to tell us all about the opportunities available in your own town in the comments below.