Who is Lt. General Patricia D. Horoho?
Lt. Gen. Patricia Horoho, Army Surgeon General, visits with Staff Sgt. Andrew C. Fain at Landstuhl Regional Medical Center. (Photo by LRMC PAO)
She's the Surgeon General of the U.S. Army, who broke a 236-year tradition by being the first non-male, non-physician to assume the post. She's a 52-year old nurse, daughter, wife, mother of three, and a three-star general. And that's just for starters. In a telephone conference with reporters, she spoke about her priorities, challenges and her background. Get Scrubs' full coverage of Horoho by picking up the Winter 2013 print edition.

The summer before she was sworn in to become the 43rd Army Surgeon General, Patricia Dallas Horoho, RN. was deployed to Afghanistan as the leader of a team assessing frontline health care. In between tours of medical facilities and meetings with soldiers, she rolled up her sleeves and got to work in a trauma unit. At the end of the day, she called her husband to tell him it was the most rewarding and exciting experience she had had in years. Many months later, in a telephone interview, there was still a trace of excitement in her voice as she said, "The ability to connect with a patient is exactly the reason I went into the profession."
Direct patient care may not be part of the Surgeon General's job description, but her experience with patients has informed every step of her rise to the top rank of U.S. Army Medical Command. She cites the ability to think critically and focus on teamwork as some of the strengths of nursing, which have translated to every post she's held.
From Basic Training to Command
Patricia Dallas was born at Fort Bragg in 1960, but boot camp for her illustrious military career began with her training as a nurse, at the University of North Carolina, Chapel Hill, where she received her BSN, in 1982. A year later, she joined the Army. She says she couldn't have imagined rising to the ranks of Surgeon General, because at the time, "nurses had no chance to command." Now she is the Commander of a world-wide staff 140,000, operating in 29 executive agencies and 480 facilities.
Horoho assumed the post of Surgeon General at a particularly challenging time, when Army medicine faces escalating health care costs, government budgetary constraints, and the continued care of soldiers physically and psychologically scarred from a decade of battle on a two-front war. Traumatic brain injuries, multiple amputations, PTSD, chronic pain and a high rate of suicide are some of the aftereffects of war.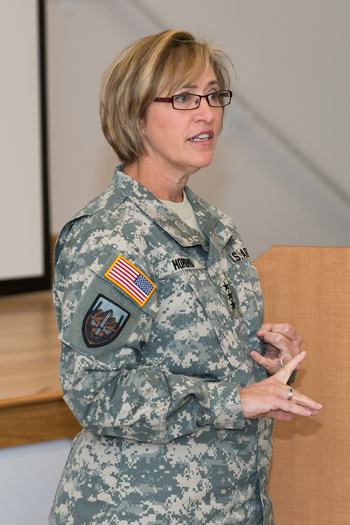 Photo by Graham Snodgrass, U.S. Army Public Health Command
Continuing the direction she took transforming Army Nursing, the Surgeon General remains committed to developing nurse leaders and nurse researchers, to instituting evidence-based practices throughout Army medicine and fostering a culture of collaboration and respect, where care is compassionate, and accountability is measured by impact on the patient–not just the final outcome but the process as well—and where there's a focus on caring for the caretakers. As she stated in an address before a Senate subcommittee "The Army Medicine Team is not immune to the stress of deployments, workload demands, and challenging circumstances. We provide the best care for our patients when we take care of each other."
Elaborating on the toll traumatic events can take on nurses, Horoho says, " I think it takes a tremendous amount of courage for nurses to connect emotionally and spiritually with patients"—courage that comes with it's own rewards.
On a personal level, her own involvement triaging the wounded at the Pentagon after 9/11 and earlier treating badly burned soldiers after a runway collision (The Green Ramp disaster) made her acutely aware that trauma victims and those who care for them—including civilian nurses—often carry invisible wounds. "You need to be proactive about seeking help, you can't wait for the symptoms to show up," she advises nurses.
It's a sentiment that was echoed in testimony she gave before a Senate subcommittee investigating the military's handling of post-traumatic stress disorder. "It's not enough to simply treat post-traumatic stress disorder; the Army recognizes the importance of preventing it from happening in the first place."
From Health Care System to a System of Health
Prevention is a key theme that runs through the Surgeon General's testimony, speeches and interviews. Shifting the focus of Army Medicine from a health care system to a system of health is one of her top priorities, she says.
The general collaborates with leaders in government, nonprofits and the private sector, to promote health by preventing illness. "I really believe as we partner with community leaders we can improve the health of our nation." As the military and the nation battle the health care crisis, nurses, says Horoho, are well-equipped to serve on the frontlines.
For being a transformative leader, who spotlights the importance of nurses and exemplifies their capabilities. For being a champion of patient-centric care, evidence-base practice and a preventative approach to medicine, Scrubs salutes Lt. General Patricia D. Horoho.