"The pendulum has swung back to dress codes," says Kimberley S. Glassman, PhD, RN, a faculty member at New York University's College of Nursing. "For a while, everybody took their eye off the ball and nurses looked awful…T-shirts, belly shirts, skin showing, scrubs way down on the hips…some really inappropriate things were allowed."
Glassman says that because hospitals and nursing schools did let things slide for quite some time, now they're having to do some backtracking, some damage control. Of course, they're not mandating the old-fashioned white dress uniforms, the white duty shoes and the white caps—oh, wouldn't that be fun? No, the new dress codes tend to be more along the lines of a particular color of scrubs, since scrubs have become the popular, ultra-practical, ultra-comfortable garb of nurses today.
Green and blue tend to be the typical scrub colors that hospital dress codes are requiring nurses to wear. Sometimes a patterned scrub top paired with a solid color scrub bottom is also allowed. And these regulations are about more than just keeping nurses from wearing what may be considered inappropriate. Many patients find it confusing when hospital staff are wearing such a range of "outfits" that it's impossible to distinguish the nurses from the aides or the porters or the lab techs. When all of the nurses in a hospital dress in a similar style, the patients can more easily identify the nurses.
Regulations regarding piercings, tattoos and hair are generally included in dress codes. Deborah Weatherspoon, RN, CRNA, MSN, an assistant professor in the School of Nursing at Middle Tennessee State University (MTSU), says that the school requires nursing students to cover tattoos when they're in clinical settings. She agrees with the policy. "Body art is a personal decision, but I think there are accepted norms that we should apply within our profession."
The dress code for nursing students at MTSU is actually quite specific. Body and facial piercings have to be removed. The only pieces of jewelry allowed are a wedding band, a watch and one pair of plain stud earrings. There are guidelines about beards, mustaches, hair accessories, fingernails…some might argue that this doesn't leave much room for individuality.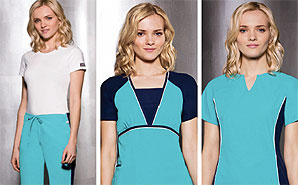 But, as Glassman points out, nursing isn't geared toward the expression of individuality. "Nurses aren't artists. They're health professionals, delivering care to individuals who are ill and in vulnerable states. The patients don't get to choose the nurses who are going to care for them, so I think it's important that nursing students and practicing nurses understand the impact that their appearance might have on patients."

J. Deane Waldman, MD, MBA, a professor of Pediatrics, Pathology and Decision Science at the University of New Mexico, says, "Anything that disrupts the ability of the care provider to make emotional contact with the patient is detrimental to the therapeutic relationship. True for nurses just as for doctors." She adds that if any appearance issues put off the patient, those issues "get in the way of the very reason the patient sought medical care."

Weatherspoon says the same applies in interview situations. She advises her nursing students to go the conservative route when they're looking for jobs—facial piercings out, tattoos covered, hair neatly groomed. "You don't know who's going to interview you or what his or her cultural background is," she says.

The interesting thing is that nursing students and nurses aren't generally taking issue with the "new" dress codes. Glassman says that although she does have to deal with the odd dress code issue with her nursing students, it doesn't happen often. "Nursing is a traditional profession, so it tends to attract a more traditional type of person," she explains.

There are definitely many advantages to dress codes, and if they help nurses make those important emotional connections with their patients…well, that's pretty significant. And besides, there's all that off-duty time when you can express your individuality, bare what you want and wear what you want. So, all in favor of dress codes?

For much of the past decade, there has been a sort of "anything goes" policy in hospitals and nursing schools regarding how nurses and nursing students can dress and thereby express their individuality. That's starting to change. Dress codes are coming back and, surprisingly, they're not getting a lot of resistance from the individuals they target.