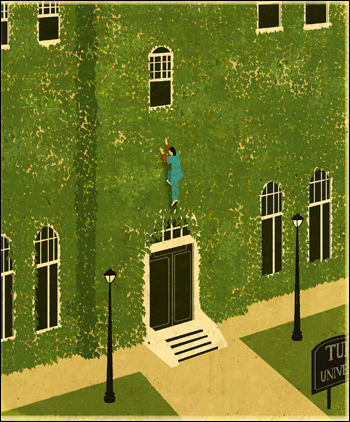 From the Spring 2011 issue of Scrubs
In 2000, I put aside my PhD in English and my three years of teaching at Tufts University to go back to school to become a nurse. It's a choice that intrigues people, but also makes them wonder about me, as in, am I crazy? Nurses especially rarely believe the explanation I give: that I had my kids and wanted something different, a job that was less about books and more about human beings.
Although second-degree nursing students all over the country are making similar choices for similar reasons, the specifics of my choice have their own story. To really explain, I have to go back to the very beginning. To the town where I grew up in southern Missouri, a place of green lawns, terribly hot summers and Southwest Missouri State University (now called Missouri State University), where my dad was a philosophy professor.
The main university quadrangle held three pseudo-Renaissance-style buildings, including the columned white marble hall where my father, who also has a PhD, had an office and taught his classes. Visiting my dad on campus was magical, especially in the middle of summer. We did not have central air-conditioning at home, so entering the cool, quiet halls was a welcome respite from the sweltering heat outside. An old-fashioned soda machine on the first floor dispensed Dixie-cup-size portions of pop, mixed by twin streams of syrup and carbonated water. I loved watching it work.
My dad's office had a wall of books and a huge unabridged dictionary with color pictures of the flags of the world and all the major breeds of dogs. I found both fascinating in the way that kids do. Students would come to discuss various issues, and their admiration and respect for my dad were obvious. I didn't understand the talk, but wanted to.
It seemed like a perfect place, and I was looking for just this sort of refuge, because my own life was not nearly so idyllic. My dad had a drinking problem, and my parents were poorly matched. They divorced when I was nine, meaning that my older brother and I shuttled back and forth between two households. When I was a sophomore in high school, my mother moved away to pursue a better job and, wanting to finish high school where I'd started it, I moved in with my father and stepmother.
Home life at my dad's house was frightening. My stepmother, now deceased, was, like my father, also a heavy drinker, and had a serious psych history. At the end of the workday, she and my dad often put away a fifth of Jim Beam and spent the evening in alcoholic oblivion. Off and on she talked about wanting to kill herself, and at her worst moment set her own hair on fire. I didn't see it happen, but hearing about it, and knowing that her son, my half-brother, witnessed it, with her saying, "Look, Mommy's a firecracker," was bad enough.
In retrospect, it's not surprising that I ran away to my books and ideas, and that my first choice of a career was academia. But being a professor is a job, not a promise of a perfect life, a distinction I only understood once I became a professor myself. The reality of department politics, arguing with students over grades and having a meager salary since I was categorized as a "lecturer" all sunk in over time. However, my decision to leave university teaching came slowly, with a fair amount of angst. Not only was I virtually abandoning the PhD I'd worked so hard to get, but I also had to end my love affair with the halls of higher learning. After three years at Tufts, I realized I had worked hard for many years to obtain a job that was born of my own childhood needs, but did not actually exist.
What's surprising, even today, is how different nursing is from teaching, and how happy I am with it, even though other people see my being a nurse as a very odd choice for a second career. So different from the quiet, hallowed halls of a university, the halls of a hospital resonate with beeps, bells and whistles that nurses slowly learn to distinguish: The IV pump alarms differently from the pulse ox machine, which sounds different from the heart monitor. Also, unlike university professors, hospital staff rarely have time to be thoughtful; sometimes it even feels like there's no opportunity to think at all. Conversation in the hospital is also seldom civilized, and can be downright nasty. Oddly enough, I usually love it.
There are times, too, when I don't love the noise and chaos, when I just want to yell out "Quiet!"—but even at those times, I never, ever wish I were back at a university. Never.