Why this nurse threw away his Palm device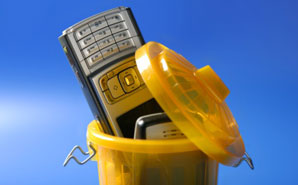 I finally did it.
After 11 years of being a devoted Palm device user, I have now fully transitioned to using my iPhone exclusively for all of my "ectopic brain" needs. Since 1999, I've been using Palm company products, starting with the Palm V (which I still consider to be the most aesthetic handheld device ever), then the VX, the 500, the 505, the 515, the Tungsten C and finally the Palm TX. Each new Palm device saw significant improvements in function, memory, expandability, color screens and bigger screens, all without ever losing its very friendly user interface.
Two years ago, I purchased my first iPhone as I saw Palm wasn't advancing its product in a way I desired. I knew the iPhone wasn't quite what I wanted, either, but there was a hint of promise there—a vision of what could possibly be.
I gradually began finding applications for the iPhone that replaced functions on my Palm TX and I began using the TX less and less. Epocrates came out, so I didn't need the TX for that. Various medical calculators came out for the iPhone. I was able to find an application (Memos) that allowed me to convert all of my years of memos created for the Palm (more than 1,200 of them!) to a format that I could easily transfer to the iPhone. The application even provided foolproof instructions on how to do this. Now I had all of those tips and tricks for emergency medicine and emergency nursing on the iPhone.
There was just one last issue: the calendar. I have to admit, I find the native iPhone calendar very un-user-friendly. Even the native Palm calendar is only just okay. I had gotten used to a program for Palm called Datebook (through all of its variations…3, 4, 5 and finally Datebook 6). It's so perfect! It allows you to assign colors and icons to your events. It allows for repeating events by date or day of the week. You can link events in the calendar to your contacts list. And it has multiple views: by day, week, two weeks, month or year. And it's so intuitive!
I couldn't really find its duplicate for the iPhone, and through communication with the creator of Datebook, I learned that he was not planning an iPhone version. Darn the luck!
But then I found Informant. It doesn't have all of the functions of Datebook 6, but it's the closest application I've found that "acts" like Datebook. I can assign colors and icons to events. It has multiple calendar views and repeating events. And although it's not as "pretty" to look at as Datebook 6, it does allow me to now just carry one device as I hit the floors of the busy emergency departments where I work. I now have everything on my iPhone that I had on my Palm TX and more.
Sorry Palm. It was nice for 11 years and I don't think I ever had a more user-friendly device. You just didn't keep up with the demands that your devoted users were asking for.