If there's one time of year when we should all be able to have our cake and eat it, too, it's holiday time. The season starts with Halloween, when we "help" our kids by eating some of their candy so they won't get sick or rot their teeth. Then, we draw the veil of secrecy over the snacking that goes on when we're surrounded by home-baked goodness at Thanksgiving and Christmas. Finally, we end the holiday celebrations with New Year's Eve (who knew a chocolate cocktail had so many calories?).
Even if you feel guilty at the thought of overindulging in the next few months, there's no reason to punish yourself by looking too big for your scrubs. Here are some of the hottest new winter scrubs for 2012 that can forgive a few extra pounds.
Learn to Adjust
Look for wintery prints that give the eye plenty to feast on while camouflaging all the feasting you've been doing lately. Bare tree trunks provide vertical lines that are slimming by design. But it's the mechanical details that really make this Into the Woods top work for winter. Instead of a fixed band of fabric at the rib cage, there's a drawstring. This means you can adjust your top for a looser, more flowing fit when that last piece of pecan pie leaves you feeling a touch bloated.
As far as scrubs pants go, anything with an elastic waistband is going to be an obvious choice. But that's not all there is to it. For example, the ideal pant material will have some stretch to accommodate a slightly rounder hip and butt during the winter. A poly/rayon stretch twill might be just the ticket. Then there's the matter of the waistband. There are some days when you just need it to ride a little lower. A "flip-down" waistband can be worn BOB (below the bulge) so it doesn't cut into your belly.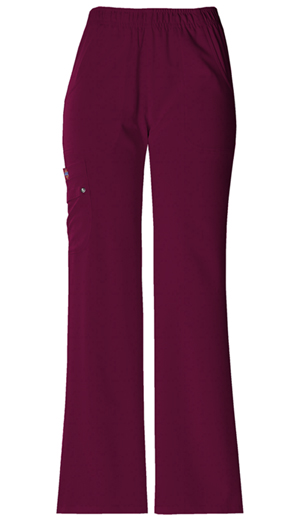 Next: Fooled You Once →