Winter scrubs styles (that hide holiday pounds)
We're Warming Up to These Looks
No wintertime scrubs wardrobe is complete without a new warm-up jacket. Elastic can be your friend or foe when it comes to outer layers. Elastic around the bottom hem of a jacket can make you look like the Great Pumpkin; a flat band around the bottom adds a little stiffness that helps the jacket stand out from your hips, camouflaging this potential problem area. Elastic at waist level in the back adds a bit of shaping that gives you back your hourglass figure. Princess seams offer a slenderizing contour that can also make you look taller if you're petite. Pick pewter or "chocolate" brown to hide extra pounds, or go bold with a color like wine for a glamorous distraction.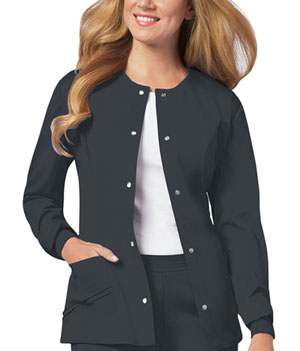 Sponsored by Cherokee Uniforms