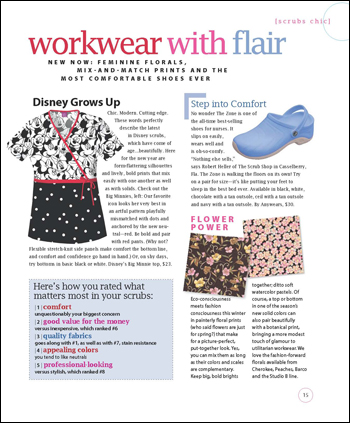 New in the Winter 2010 issue of Scrubs: feminine florals, mix-and-match prints and the most comfortable shoes ever.
Disney Grows Up
Chic. Modern. Cutting edge. These words aren't ordinarily associated with Disney, but they do perfectly describe the latest in Disney scrubs. Here for the new year are form-flattering silhouettes and lively, bold prints that mix easily with one another as well as with solids. Check out the Big Minnies: Our favorite icon looks her very best in an artful pattern playfully mismatched with dots and anchored by the new neutral—red. Be bold and pair with red pants. (Why not? Flexible stretch-knit side panels make comfort the bottom line, and comfort and confidence go hand in hand.) Or, on shy days, try bottoms in basic black or white. Disney's Big Minnie top, $23.
Here's how you rated what matters most in scrubs:
Comfort (unquestionably your biggest concern)
Good value for the money (versus inexpensive, which ranked #6)
Quality fabrics (goes along with #1, as well as with #7, stain resistance)
Appealing colors (you tend to like neutrals)
Professional-looking (versus stylish, which ranked #8)
Step into Comfort
It's no wonder that the Zone is one of the all-time best-selling shoes for nurses. It slips on easily, wears well and is oh-so-comfy. "Nothing else sells," says Robert Heller of The Scrub Shop in Casselberry, Fla. The Zone is walking the floors on its own! Try one on for size—it's like putting your feet to sleep in the best bed ever. Available in black, white, chocolate with a tan outsole, ceil with a tan outsole and navy with a tan outsole. By Anywears, $30.
Flower Power
Eco-consciousness meets fashion consciousness this winter in painterly floral prints (who said flowers are just for spring?) that make for a picture-perfect, put-together look. Yes, you can mix them as long as they're the same intensity and scale. Keep big, bold brights together; ditto soft watercolor pastels. Of course, a top or bottom in one of the season's new solid colors can also pair beautifully with a botanical print, bringing a more modest touch of glamour to utilitarian workwear. We love the fashion-forward florals available from Cherokee, Peaches, Barco and the Studio B line.
Sponsored by Cherokee Uniforms