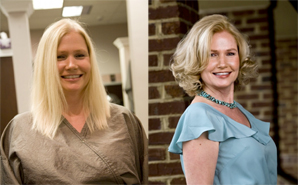 A Knoxville, Tennessee RN was the winner of a makeover contest sponsored by a local salon and spa.
Betty Grishkin, a wife, mother, and grandmother who looks much younger than her 50 years, started as a medical transcriptionist, became a surgical technologist, and then returned to school at 39 to study nursing at Roane State. She now works mostly in the OR for cardiovascular surgeries.
As she practically lives in her scrubs, she was the perfect candidate for an updated look.
And her prize? A $200 clothes budget (and outfits picked by a professional stylist), a new hair color and style to replace the 'do she's worn for 20 years, and a facial with a makeup application to top it off.
Grishkin, thrilled with her transformation, exclaimed "Wow! What a difference."
Are you up for a transformation? Subscribe to our newsletter and you could win a scrubs makeover…your pick of top, bottom and Zone shoes from Cherokee Uniforms!
[source: Knoxnews.com. Photos by Adam Brimer]
Sponsored by Cherokee Uniforms