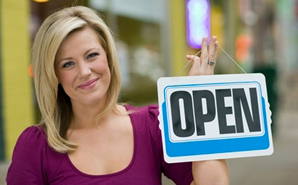 We interviewed certified nurse practitioner Lisa Williams about how she made the change from IV needles to Botox needles.
"Do not quit your day job," she advises. "Just cut back on it a little so you can start your other business." And if you do want to start performing cosmetic dermatology procedures, make sure it's legal where you live, and "do not work for a spa or salon owner." Read on to learn why.
Scrubs: How long were you a practicing nurse before you opened your spa?
Lisa: One year as a nurse practitioner and four years as a RN.
Scrubs: What made you decide to do this?
Lisa: I wanted to go out on my own so I wouldn't have to pay doctors a percentage of my income anymore.
Scrubs: How difficult was it to make the change?
Lisa: It was kind of slow at first. I remember networking with everyone, talking and explaining my procedures to all the hairstylists, giving them samples of my work, even putting flyers on people's cars!
Scrubs: How satisfied are you with your career compared to before you opened your spa?
Lisa: I loved my jobs that I had previously, but now I could never go back to doing what I did before. This is an entirely new lifestyle.
Scrubs: What is your typical day like?
Lisa: I do a lot of work at home in the early morning, starting about 5 a.m., responding to clients via email, paying bills, delegating work to my employees, doing research. Then I usually go hiking on the mountain that's close to where I live. Next, I go to work and do procedures such as Botox, fillers, Fraxel treatments on clients.
Once a week, I attend a networking business group where we give referrals to each other. I learn a lot from them as well—there's a financial advisor, a CPA, an attorney, etc.
Sometimes it's so busy that I forget to eat, so I consume a lot of vitamins and protein drinks. I have a personal trainer, so several times a week I undergo a vigorous workout with him or go to the gym next door and work out. I also talk on the phone a lot to clients, answering questions.
Scrubs: How satisfied are you with your income?
Lisa: I'm satisfied with my income as it's definitely more beneficial to own a small business.
Scrubs: What advice do you have for other nurses seeking a more competitive salary?
Lisa: Read some books about how to own your own business, take some risks and remember you have to take one step backward to get four steps ahead. Do not quit your day job; just cut back on it a little so you can start your other business. Do everything by the book. If in doubt, check first with your regulatory agencies or an attorney.
Scrubs: Can nurses find work at beauty spas?
Lisa: Check first with your nursing board, and if you're not allowed to do cosmetic dermatology procedures, then it's important for you to become involved in your state nursing organizations and nursing boards to help change the laws and/or legislation. I think in this economy it's still possible to make it in an upscale area of town, but do not work for a spa or salon owner. Explain to the spa or salon owner that it would be considered the corporate practice of medicine and will probably eventually be illegal or outlawed (as it is in California). Explain to the spa or salon owner that if there's an adverse event, they'll be liable for injuries if they're involved with your business. So it's to their benefit to be separate.
Lisa Williams, NP, offers a comprehensive approach to cosmetic dermatology in Scottsdale, Ariz. Her med-spa, Ultra Smooth Skin specializes in high-quality, noninvasive and non-ablative cosmetic treatment to clients who are interested in looking younger and enjoying healthy and smooth, hairless skin. Lisa is a Scottsdale native and attended Arizona State University for both a bachelor's degree in nursing and a degree from the W.P. Carey School of Business, as well as a master's degree in nursing as a nurse practitioner. She has been performing cosmetic dermatology procedures for over five years, and has been at Canyon Falls Med Spa for almost four years.