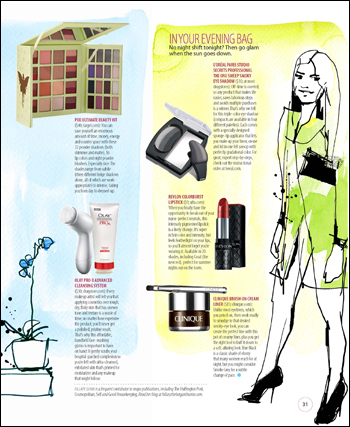 From the Summer 2012 issue of Scrubs
Here's a separate summer stash for every place in your life, whether you want to touch up, clean up or dress up. To save shopping time, we've included websites, but most of these products are available at your favorite drugstore. Think of it as our nursing your needs for a change….
In Your Scrubs Pocket
Quick-grab products are a necessity, not a luxury.
Maybelline New York Dream Matte Powder ($8.49; walgreens.com): It's mid-shift and time for a touch-up, if only to tackle that bit of shine around your nose or check that your concealer is still in place. This little matte-powder compact—it comes in four universal shades—takes care of those little fixes and boasts a miniature swing-out mirror that saves a trip to the restroom.
CoverGirl NatureLuxe Gloss Balm ($6; cvs.com): With the shine and color of a gloss and the moisture-plus-protection of a lip treatment, this two-in-one balm will be the hardest-working product in your beauty arsenal. Natural mango and shea butters replace traditional synthetic emollients, while SPF 15 covers you on outdoor breaks. It comes in 16 colors, but we especially like Tulip (a perfect everyday pink) and Clay (a nice, neutral beige).
Burt's Bees Aloe & Witch Hazel Hand Sanitizer ($5; burtsbees.com): Antibacterial hand-washing products can be awfully harsh—especially when you think about how many times per shift you use them. But this all-natural formula (no petro-chemical or synthetic ingredients) is stocked with soothing witch hazel and aloe vera to soften, moisturize and calm irritation or dryness.
In Your Gym Bag
When you're working out and in a hurry to get to work, these are the products you want at your fingertips.
Bobbi Brown EXTRA SPF 25 Tinted Moisturizing Balm ($52;bobbibrown.com): When you're heading to work straight from the elliptical machine and time is of the essence, so is a multitasking product. This single tote-able pot is three products in one: sun protection, a super-hydrating moisturizer and a light-coverage foundation. Pricey, yes, but justified because there's enough to last for months. The best part? It goes on a like a dream and leaves you with a natural, dewy finish, which is critical when you're dealing with dry indoor air.
Suave Professionals Dry Shampoo ($3; target.com): No time for a shampoo? Don't worry—this hair refresher adds volume, texture and a subtle fragrance, while mineral-clay ingredients work to absorb excess oil. Even better: Unlike many of the popular dry shampoos on the market, this one's cheap enough to keep an extra can in your locker, should you require a workday freshen-up.
Dove Deep Moisture Nourishing Body Wash ($5; target.com): Top NYC dermatologists have hailed this sunflower-and-soybean-oil body wash as the gold standard in skincare. Most notably, it does away with the need for a follow-up moisturizer after your shower because it's so hydrating. And when you're hauling products around on the run, less is always more.
In Your Work Locker
When all you have is a moment or two, you can freshen up in no time flat.
Clinique Moisture Surge Face Spray Thirsty Skin Relief ($21; clinique.com): A quick spritz of this aloe-stocked liquid hydrator provides instant moisture (without a drop of oil). You can simply spray it on over makeup—no messy moisturizing cream needed.
M•A•C Perfectly Finished Mineralize Concealer ($18.50; maccosmetics.com): You've got some dark circles that need to go into hiding, but the standard concealers that come in light, medium and dark just don't cut it (they should be called "too light," "too medium" and "too dark"!). In a stroke of genius, the folks at M•A•C just introduced this ultra-moisturizing stick concealer that comes in 15 different shades (seriously!), which means you're almost guaranteed to find your perfect match.
Spornette G-36 Porcupine Brush ($11.50; drugstore.com): The most popular brush in Spornette's 100-plus professional brush line, the G-36 combines both boar and nylon bristles, so it's able to comb through and style just about any hair texture (especially great for those unruly baby hairs you're always trying to sweep into your work ponytail). We warn you, though: Using this brush can be addictive, and you'll likely end up keeping an extra one at home so you can take advantage of its great "grab" factor…and finally master that perfect blow-dry.
In Your Beach Bag
Play it safe in the great outdoors with the crème de la crème.
L'Oréal Sublime Sun Hydra Lotion Spray SPF 50+ ($11; at most drugstores): The importance of sunscreen goes without saying, but thick, sticky, greasy creams no longer have to factor into the equation. We discovered this new line of sun protection that infuses silica powder with emollients for sheerness in a handy spray formula…easy to apply and comfortable on the skin.
Maybelline New York Baby Lips Repairing Lip Balm With SPF 20 ($4; target.com): Unlike your run-of-the-mill lip products, these treatment-infused colors offer four big benefits for just three small bills: eight hours of hydration, six super-wearable shades (we love Quenched for its natural look), an SPF 20 and clinically proven ingredients that produce visibly softened, renewed lips in four weeks.
On Your Bathroom Counter
Keep these must-haves at home for a beauty routine that's smart and swift.
Olay Pro-X Advanced Cleansing System ($30; drugstore.com): Every makeup artist will tell you that applying cosmetics over rough, dry, flaky skin that has uneven tone and texture is a waste of time; no matter how expensive the product, you'll never get a polished, pristine result. That's why this affordable, handheld face-washing gizmo is important to have on hand: It gently scrubs your hospital-parched complexion so you're left with ultra-cleansed, exfoliated skin that's primed for moisturizer and any makeup that might follow.
L'Oréal Paris Visible Lift Smooth Absolute ($16; at most drugstores): When you work upwards of 12 hours a day, products that double up on form and function—like this foundation and brush in one—are a wise purchase. Stocked with anti-aging ingredients to save you a treatment step, the clickable "pen" applicator delivers buildable coverage that ranges from a light veil of foundation to a more evening-ready look. Available in eight shades.
Pixi Ultimate Beauty Kit ($40; target.com): You can save yourself an enormous amount of time, money, energy and counter space with these 32 powder shadows (both shimmer and matte), 16 lip colors and eight powder blushers. Especially nice: The shades range from subtle (three different beige shadows alone, all of which are work-appropriate) to intense, taking you from day to dressed-up.
Conair Infiniti PRO Tourmaline Ceramic You Style & You Curl 3-in-1 Multi-Function Kit ($41; amazon.com): The beauty of this kit is the variety it offers for a very affordable price. You can use it to straighten, style or curl–plus it comes with protective gloves to keep fingers safe. Best part: It heats up in 30 seconds.
In Your Evening Bag
Yes, you can go glam when the sun goes down.
L'Oréal Paris Studio Secrets Professional The One Sweep Smoky Eye Shadow ($10; at most drugstores): Off-time is coveted, so any product that makes life easier, saves laborious steps and avoids multiple purchases is a winner. And that's why we fell for this triple-color eye shadow (compacts are available in four different palettes). Each comes with a specially designed sponge-tip applicator that lets you make up your brow, crease and lid in one fell swoop with perfectly gradational color. For great, expert step-by-steps, check out the instructional video at loreal.com.
Revlon ColorBurst Lipstick ($9; ulta.com): When you finally have the opportunity to break out of your nurse-perfect neutrals, this intensely pigmented lipstick is a lively change. It's super rich in color and intensity, but feels feather-light on your lips, so you'll almost forget you're wearing it. Available in 20 shades, including Coral (the new red), perfect for summer nights out on the town.
Clinique Brush-On Cream Liner ($15; clinique.com): Unlike most eyeliners, which you pencil on, then work madly to smudge to that desired smoky-eye look, you can create the perfect line with this pot of creamy liner, plus you get the right tool to buff it down to a soft, alluring look. True Black is a classic shade of ebony that many women reach for at night, but you might consider Smoke Grey for a subtle change of pace.