6 tips for a happy, healthy pregnancy while working as a nurse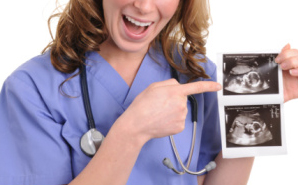 As a nurse, you already encounter a whole host of challenges on the job every single day—contact with infectious diseases, heavy lifting, shifting sleep schedules and emotionally taxing situations, to name just a few. Add pregnancy into the mix and your job could become even more intense and stressful. What's a momma-to-be nurse to do?
It's important that expecting nurses take some precautions—and give themselves a little extra TLC—to ensure a healthy and low-stress pregnancy. Here are six tips to help you have a happy, safe pregnancy…while still working as a nurse!
Get a head start, if possible. If you're planning on becoming pregnant, consult with your doctor about prenatal vitamins and check that you are up to date on your vaccines. At work, it may be a good time to look into your maternity leave options. You also may want to find out about part-time and per diem options, saving vacation time for after the baby is born and family health benefits.
Consider letting supervisors know early. When you announce your pregnancy is up to you, but many nurses let their bosses know early in the process. This way, your employer will be in the loop if you need any special considerations or job modifications.
Let your OB or midwife know you're a nurse. She can discuss any occupational concerns with you. Depending on your job, you may need to avoid certain exposures, such as radiation, chemotherapies, cleaning agents and certain infectious diseases.  Remember to always follow infection control precautions as directed. If you've experienced an occupational hazard, such as a needle stick or a human bite, or if you're worried about a potential exposure, immediately consult with your doctor and your employee health office.
Take care of yourself. You know all too well that it's not uncommon for nurses to skip meals, sleep erratically and go long hours without bathroom breaks…but now, more than ever, taking care of yourself is important. Make sure you're meeting the nutritional demands of your pregnancy and getting as much rest as you need. A few things that may help: Bring snacks to eat between meals, keep a bottle of water nearby and even leave reminders for yourself to go to the bathroom. You also may need to limit the physical demands of your job. At home, try to engage in relaxing activities and see if other family members can take over some household chores to help to ease your burden.
Remember to take care of yourself after the baby is born, too! Being a new mother can be even more demanding than pregnancy, and finding time for adequate rest is a continued concern. You may need to ask for extra help to meet the demands of parenthood and your career, whenever you choose to return to work. If you're breastfeeding, keep in mind that increased nutritional demands and concerns about occupational exposure may still apply. Talk to your employer about any needs you may have, such as clean and safe places for pumping and milk storage. You may want to consult your state's laws regarding breast pumps in the workplace, as well as the recently enacted federal laws that make certain allowances for pumping.
Try to relax and enjoy! While it's perfectly normal to have anxiety about your pregnancy, especially while holding down a demanding job, remember that nurses have happy, healthy pregnancies all the time. Your career choice may seem taxing at times, but your knowledge as a nurse can help inform your healthcare decisions and make you an even better parent!
Anne Murphy Garrity, RN, BSN, currently works as a school nurse in the Bronx, N.Y. She is the mother of two wonderful children, and worked as an RN throughout both of her pregnancies. Her writing has appeared in several small literary magazines.