About Felicia Marie Tomasko
Felicia Marie Tomasko, RN, E-RYT, has been continuously studying and practicing the combined disciplines of yoga and Ayurveda for more than 15 years. She integrates her training and license as a registered nurse with years of training and internship as an Ayurvedic practitioner for an understanding of the best of how East meets West in our bodies. Felicia is the editor-in-chief of LA Yoga Ayurveda and Health magazine and an advisory board member of TheHolisticOption.com.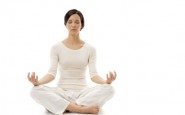 When you need a quick grounding, when you need to center yourself in the midst of a storm, meditation could be your answer.