About Tricia Hunter, RN
Tricia Hunter, RN, works at Yakima Regional Medical and Cardiac Center, a premier cardiac hospital in central Washington. She has worked as a night-shift nurse for more than 33 years. Her husband, now retired, was also a night-shift nurse. Together with their fat Chihuahua, Homer, they enjoy the night-shift life together.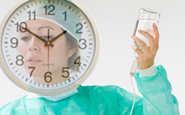 How to sleep, stay connected with your social circle, relieve stress, avoid the "hangover feeling," and enjoy the perks of working when everyone else is slumbering.