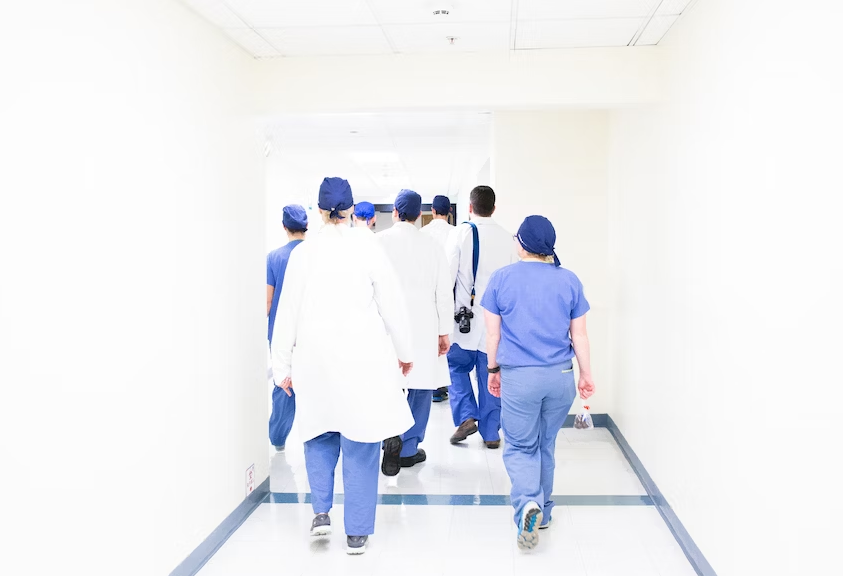 According to the State of The World's Nursing 2020 Report, nursing occupies the largest chunk of the healthcare domain. It accounts for approximately 59% of medical professionals. Altogether, there are close to 27.9 million nurses, and 19.3 million of them are categorized as professional nurses.
The global pandemic has posed challenges to the healthcare sector worldwide. It also brought to light new medical innovations to address the crisis. A Goldman Sachs report states that the augmented, virtual, and mixed reality technologies in the healthcare sector might reach 3.4 million users and $5.1 billion globally by 2025.
The McKinsey Global Institute suggests that applying big data tactics in the pharmaceutical and healthcare sector can save as much as $100 billion annually.
Fast-Growing Nursing Opportunities
Job expansion is a result of demand and supply. The U.S. Bureau of Labor Statistics states that the overall job expansion rate for registered nurses will be 6% all through 2031. The expected growth rate for all NPs (Nurse Practitioners) is 40%, which is quicker than the average.
The shortage of nursing faculty affects the supply of new nurses. The American Association of Colleges of Nursing stated that close to 91,938 qualified applicants were denied the baccalaureate nursing programs during 2021 and 2022.
Correct training will help nurses advance their careers and use technology to their benefit. Today, it is possible to shift one's career and work as a BSN-prepared nurse. The 15-month ABSN program online course from Saint Joseph's College of Maine can be helpful.
The Hybrid Accelerated Bachelor of Science in Nursing (ABSN) has been carefully designed for candidates who have a bachelor's degree in non-nursing subjects. There is no need for any nursing experience here. The educators provide individual attention, mentoring, and the right amount of supervision.
Influence of New Technology on Nursing
The leaders in U.S. health systems are in favor of using digital technology in the healthcare system. The Healthcare Information and Management Systems Society states that 99% of leaders consider digital transformation as an essential investment.
It further states that close to 84% of companies should use online health tools. Also, close to 79% of the leaders willingly have decided to make use of online health tools.
However, the question is how technology can bring about a positive change in the nursing profession. The following pointers help to throw light on this.
Predictive Analysis
It guarantees enhanced patient outcomes. Through AI, predictive analytics use data from past patients to suggest a treatment course with great outcomes. Other than the treatment modules, predictive analytics help medical professionals assess patient data fast. It helps to save valuable time and also enhances patient results.
For instance, AI can recognize the requirement for blood tests much faster than any human can. It will eventually result in quicker test collection and fast outcomes.
This data enables nurses to work with greater flexibility. It helps them to adapt to a patient's requirements fast, making use of the data for switching medications or making changes to the dose. They can take the necessary steps with ease to improve the patient's condition.
Remote Patient Monitoring
It helps to track the patient health data outside of a clinical setting, making use of the technology for transmitting the patient health data between the providers and patients in real time.
Remote patient monitoring (RPM) is a new and crucial technology in the nursing profession as it enables the patients to receive the desired care from home. It leads to several psychosocial benefits and enables the nurses to remain abreast of any variations in a patient's health.
A few of the devices used in RPM are:
Pedometers
Digital blood pressure monitors
Heart monitors
Continuous glucose monitors
Pulse oximeters
Some advantages of using RPM in the nursing profession include:
Complete peace of mind for the patients and their respective families
Lesser needless office visits, which saves the patients and provides money and time
Personalized patient communications depending on updated data
Correct and time interventions which can avert hospitalizations or relapses
Improved personalized care and patient feedback for all the chronic conditions
Clinical Mobility
Simply put, clinical mobility means using handheld digital devices, such as smartphones, tablets, and mobile computers, by healthcare professionals at their clinics or hospitals. All these devices provide increased mobility through the facility, enabling them to develop a new and easy-care point depending on the location of every patient.
Additionally, clinical mobility devices enable nurses to get their jobs done efficiently. It helps them to share the updated patient data with the concerned care team, which helps to save lives. It helps to benefit the patients and the providers in many ways, such as
More effective workflows
High-end patient care
Informed and improved clinicians
Conclusion
Going forward, healthcare technology will get developed from time to time and applied to the nursing segment. It will bring down the scope of human errors, for instance, administering medications and documenting patient data.
Nurses can provide streamlined patient care in easy ways. Furthermore, the frequency of human interaction will be more, thereby resulting in a better bond between the patients and the nurses.