Whether you're looking to treat yourself, give a give to a friend or family member, or score some brownie points with your SO, we have you covered! From brand new gadgets to sweet snacks and even some "adult" gifts, check it all out here:
Wood Watches for Men & Women
Wood In Philosophy is an online retailer based in Vancouver, British Columbia that sells stylish wood watches for men and women. Each watch is handcrafted with high-quality materials including sapphire crystal glass, and exotic hardwoods. The watch we're featuring today The Bowen Chronograph Ebony + Ash is no exception. Classic design meets modern detailing with its ash colored dial, dark sandalwood and ion plated steel band, and two-tone second hand. This watch also comes packaged in a beautiful wooden gift box perfect for gifting. On top of that, all of our watches can also be personalized with custom text or an image engraving, which makes it the gift that's sure to impress that special someone in your life on Valentine's.
Healthy Meals Supreme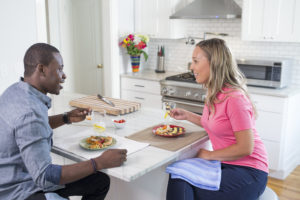 Say I love you to your special someone with the gift of eating well, saving time and feeling better -for those busy days when there is just no energy, interest or time to cook. New from Healthy Meals Supreme – a variety of customized, culinary medicine inspired, delicious, freshly prepared and ready-to-eat meals that will change your world for the better with your easiest way to eat right!
KPOP Foods
Is your loved one a huge foodie or chef? If so, then we have you covered with KPOP Foods' Triple Threat Sauce Set and KPOP Sea Snacks. The Triple Threat Sauce Set features three amazing sauces – KPOP Sauce, the original Korean chili sauce based on a 70-year old family recipe, KPOP XXX Sauce, a flavor-packed Korean hot sauce, and KPOP Kimchi Mayo Sauce, a creamy aioli with a delightful tang and heat. KPOP Sea Snacks is a premium roasted and all-natural seaweed snack packed with micronutrients, making it a great healthy snacking alternative. Use SCRUBS10 for a 10% discount off of your order!
Cuts Clothing: Premium, Minimalist T-shirts for Men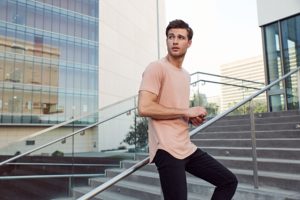 Across between activewear and business casual, a shirt from Cuts is perfect for the modern man on the go. Its unique fabric blend means you'll always be comfortable without sacrificing style. Great for male nurses or husbands/boyfriends. Choose from a number of styles and colors to find the perfect shirt.
Sand Cloud: Reusable Water Bottles and Metal Straws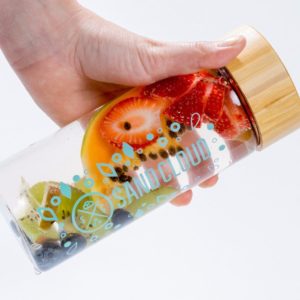 It's important for nurses to stay hydrated on long shifts, and we know it's always easy to grab a water from the vending machine or soda from the caf – but go green in 2019 and reduce your plastic use with a glass water bottle and reusable metal straw from Sand Cloud. Perfect for busy nurses on shift or on the weekends. Plus, it's a gift that gives back – a percentage of all sales goes back to charities that protect marine life.
Nomader Collapsible Water Bottle
The Nomader is a unique gift item for travel lovers. Manufactured with shatterproof BPA free silicone, this innovative reusable water bottle is tough enough to survive accidental drops, freezable, heat-resistant, and dishwasher-safe. The Nomader bottle features a secure leakproof cap to prevent annoying spills and a wide mouth to make it easy to clean. The most unique feature of this bottle is that it can roll-up or collapse flat to save on space, yet is comfortable to drink from thanks to its sturdy design.
No Mo-Stache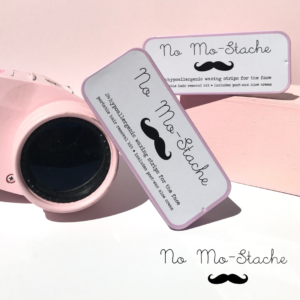 No Mo-Stache is the first ever portable hair removal kit for women. We live in a time of instant so why does hair removal have to be at a salon or when you remember at home? We are on the go and need hair removal to keep up with us. The No Mo-Stache goal is to empower women to remove hair and feel good at all times.
Robemart Robes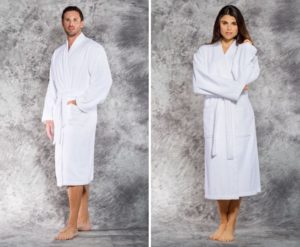 Robemart's aim has been to give fashion-conscious men and women wholesale robes in the sizes, color, fabrics and length they desire. Our customer has an eye for design and wants the best in what they wear – no matter where they are – whether it's a spa, pool, or bridal party. All of their robes are customizable and can be done in 3 days or less!
L is for Love Book
The 26 full-color illustrations in L Is For Love feature themes of love and friendship—for brothers, sisters, Mom and Dad, Grandma and Grandpa, BFFs, and even the family pet. They're all created in artist Greg Paprocki's adorable style that has delighted readers of his other alphabet books. A perfect gift for Valentine's Day . . . or any other day of the year!
Dark Chocolate Covered Pistachios
Setton Farms premium Dark Chocolate Covered Pistachios are a healthy alternative to other chocolatey treats and make a great gift for everyone you love.. Pistachios are a heart-healthy snack and are loaded with protein, potassium, fiber, antioxidants, and Vitamin B5. Cover them in dark chocolate and this snack is on a whole other level of delicious. This is the perfect gift for girlfriends, boyfriends, husbands, wives, children, parents, friends, and everyone in between. Nothing is better than heart-healthy treats this Valentine's Day.
Minnie by OLIKA
Designed especially for those who appreciate a stylish upgrade and better-for-you ingredients, Minnie by OLIKA is a little nugget of germ-fighting power with more 500+ sprays. The beautifully-designed hand sanitizer even replaces 15+ bottles of gel-based alternatives.
G|B Defender
The G|B Defender is a groundbreaking smart safety watch that allows people to take charge of their lives. Streaming live video, as well as GPS coordinates, at the push of an SOS button, it puts any potential attacker's face and voice on the customer's personal cloud account through a 4G cellular network. Moreover, with calling and video calling, as well as a step counter and fitness functions, it will replace other smartwatches already on the market. It is the consummate all-in-one smartwatch.
Screaming O Gift Set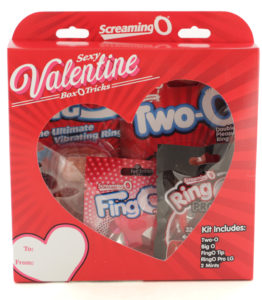 After the flowers & fancy dinner, celebrate Valentine's Day in the bedroom with the Sexy Valentine's Box O Tricks. Featuring 4 easy to use, discreet & fun adult accessories, this erotic kit for couples is perfect for those who've never tried adult toys before. There's no better day than V-day to try new things in the bedroom! Scrubs Magazine readers save 15% off with the discount code SCRUBS.
Pocket Palette
It's a travel makeup kit that is packaged into a tiny kit about the size of a post-it note! Pocket Palette is the perfect Valentine's gift for the busy woman on the go or travelers. It is cruelty-free and made in the USA. Also available on Amazon.
Eucalyptus Steam Shower Spray
Make your shower experience extraordinary with Eucalyptus Steam Shower Spray by Travertine Spa. Enjoy the inhalation benefits of 100% natural eucalyptus oil as the steam rises and turns your shower into your very own spa. Get yours on their site or Amazon!
Legend Age Lipstick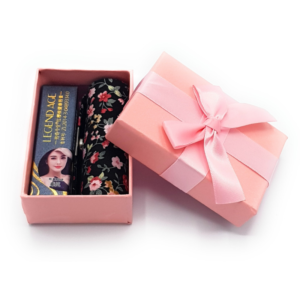 The Legend Age Lipstick is a 4-in-1 lipstick that can be used as a moisturizing lip balm, natural color lipstick, hydrating lip mask and sunscreen with SPF. Made with beneficial natural ingredients including beeswax, Vitamin E oil, and titanium oxide, this lipstick can heal cracked, chapped, and dull lips. It is perfect for any gender and age and is also safe for kids and pregnant women to use.
Aromatherapy Pet Care
68% of households own a pet! Our collection of aromatherapy pet grooming products is the "pawfect" luxury gift to freshen the home this Valentines bringing together pet and pet parent. The Aromatherapy Pet Spa Duo comes with full-size aromatherapy freshening spray & shampoo. A spray for on the go and a traditional shampoo for a full bath experience. The Aromatherapy Deodorizing Soy Candle for Pets is available in 17 scents so you can blanket your home in our bespoke scents and de-stress during this busy holiday season.
Clean Cocktails, Righteous Recipes for the Modern Mixologist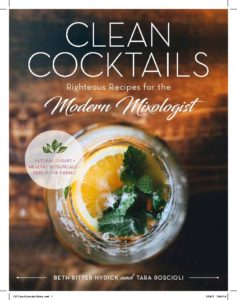 In Clean Cocktails, holistic health coaches Beth Ritter Nydick and Tara Roscioli bring a clean-living mindset to craft mixology. Their recipes use nothing but naturally low-calorie spirits; fresh juices loaded with vitamins; gentle sweeteners like honey and maple syrup; and anti-inflammatory spices like cinnamon, cayenne, and turmeric―the perfect alternative to drinks that are typically loaded with refined sugars, artificial flavors, and dyes. Much more than a compendium of cocktails, this book provides recipes for "clean" syrups and bitters so readers can easily build their own delicious drinks.
Luc and Bell Jewelry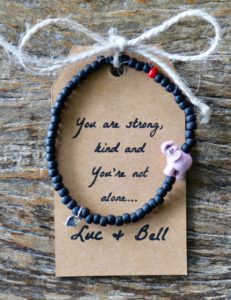 Each Luc and Bell piece has a red bead symbolizing strength and protection, a heart for love and an animal specifically chosen for its commitment to family and community – like a penguin, an elephant or a wolf. It reminds people of their own strengths and the circle of friends around them. Each bracelet is handmade and packed with meaning, and a portion of their profits are donated to children in need. Use SCRUBS15 at checkout to get a 15% discount on any bracelet until March 31st, 2019.
Jypsea Local
Jypsea Local is handmade locally and ethically with 2-3 layers of lycra for full coverage and no translucency, Brazilian cut, made to stay on and ideal for an active lifestyle (surfing, paddling, swimming etc.). All suits are made in Miami.
Lovepop Cards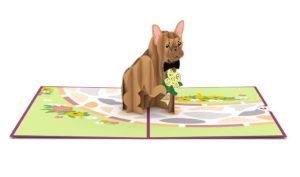 Whether it's for a new partner, a long-term Valentine, or even a friend, Lovepop's Valentine's Day cards are intricate 3D paper sculptures that your loved ones won't want to throw away. They can be used as an addition to another gift, or as a gift in itself! Think of it as a bouquet of flowers that never dies.
ChiliPad
The ChiliPad is a sleep system and mattress pad with cooling and heating temperature control that allows two sides of the bed to have different sleep temperatures. This is perfect for when you and your partner can't agree on a temperature, not to mention the numerous health benefits of temperature optimized sleep!
Bel Essence Skincare Products
Bel Essence creates its products based on a simple principle – nutrition for the skin. Our skin is our largest organ, and what we put on our skin can affect our entire body. Bel Essence combines plant oils, all researched for their nutritional properties and combined to deliver the best nutrition to skin and hair, and give our bodies topical nutrition.