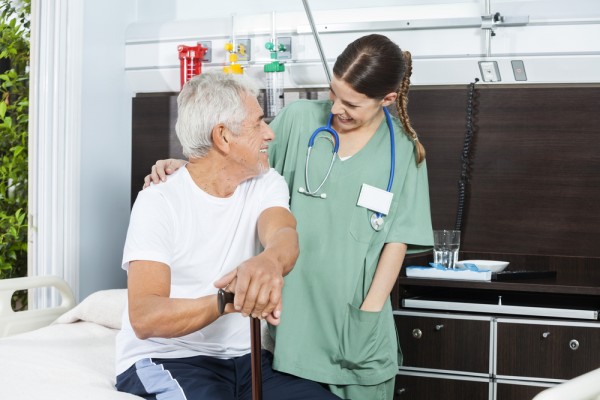 First impressions are super important. There's no real scientific consensus on how long it takes to form a first impression. Some say it takes 7 seconds, and some say 30. A new study from the Association of Psychological Science says it may be even less – you may start judging an unfamiliar person within a blink of an eye.
However, always making a good first impression can be difficult for nurses due to the nature of the job – large and unpredictable workloads can often lead to a harried, rushing manner that makes it tough to present your best self to new patients.
Part of this is due to the sheer number of patients that nurses must meet and care for on a daily basis. Nurse staffing ratios often vary from 5-10 patients per nurse, and most hospitals have very high patient turnover, making it difficult to keep up with workloads and provide quality patient care.
However, there are three simple ways even the busiest nurses can make a great first impression on their new patients. Read on and find out how you can help make your first meeting with a new patient great, and encourage a great working relationship.
Be On Time
This is the most important tip on this list. If you follow this tip and ignore every other one on the list, you'll still find that you manage to make a good first impression on your patients.
Think about it. If first impressions start from the moment a patient lays eyes on you, what's worse than not being there? Especially when you're supposed to be. If you have a scheduled appointment or task and your patient is expecting you, you'll lose more credibility for each second that you're not there.
If you are supposed to meet with a patient or take them somewhere and you don't show up, you lose their trust. This extends to telling them you'll return and forgetting about them. Both of these actions are a severe breach of trust, and forgetting about a new patient can mean developing a very poor nurse-patient relationship.
Make it a point to be on time, every time. This is especially important with new patients. It's hard – you have a lot to do as a registered nurse – but it's well worth the extra effort.
Dress Like A Professional
Dressing like a professional is absolutely essential to a good first impression. Remember, these patients know nothing about you – from the very start of your relationship, you should be projecting an air of professionalism, and dressing well is a great way to emphasize professionalism.
Now, There are many nurses out there who don't do this – they may wear cartoon-print hoodies, skate shoes, have long and loose hair, and so on. And you know what? They're probably fantastic nurses, and excel at their jobs.
But their patients won't know that from the start of their relationship. If a frazzled nurse walks in with overly-long nails and a mussed-up hairdo, the patient may lose some trust in their nurse immediately. That trust can be regained – but its loss can also be entirely avoided for a better first impression. Here are a few simple tips for maintaining a professional look.
Make sure your uniform is

clean and pressed

Wear your hair conservatively, and in a natural color

Minimize makeup and jewelry

Keep nails clean and short

Wear clean shoes
Maintaining a professional look will be a good visual indicator to your patients that you are a trained professional, and that you know what you're doing – it increases trust, which is essential for a great patient relationship.
Make (And Maintain) Great Eye Contact
Eye contact is hugely important. According to Psychology Today, making good eye contact increases trust, helps persuade people to your point of view, and increases their perception of you as open, honest and trustworthy.
The first thing you do when you walk into a room with a new patient is lock eyes and smile. Hold their gaze for several seconds, and keep returning to make eye contact with them throughout your conversation.
Avoid staring, but make sure that you're looking in their general direction for at least the first few minutes of your conversation, and whenever you're not focusing on some other task. Great eye contact is an indication of care, interest, and openness, and can go a long way when first meeting a patient.
Take Time To Make A Great First Impression – And Reap The Rewards
Failing to make a great first impression isn't the end of the world, and it's not always going to be possible to present your best self to a new patient. And that's okay! Nobody's perfect, and the nature of nursing makes that very clear indeed.
But if you take the time to follow these three simple steps, and do your best to follow through with them, you'll be amazed at how your patients respond. Developing a good relationship will be easier, and you'll be able to deliver a higher standard of care.