This post is sponsored by Cherokee Uniforms.
The HeartSoul Break on Through Vest
Vests are making a comeback. And we're dying over this retro signature piece from the Break on Through collection. Ultimately, they say the devil is in the details and this body warmer has them all. Our fave? The heart shaped zipper in a gold plated design. The spandex in this design gives the vest a comfortable stretchy fit, but the piece de resistance is ultimately the gorgeous hoodie. Paired with a beautiful white underscrub, we've got to say, we're in love. Find a retailer online at https://heartsoulscrubs.com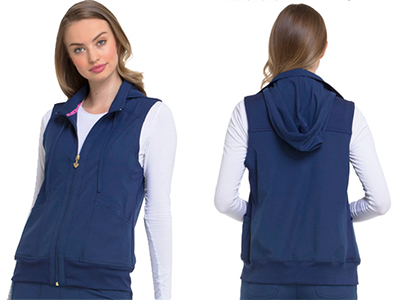 Cherokee iFlex Zip Up Warmer
If Classy was a scrub, it would be the Cherokee iFlex Zip Up Warmer. This piece is form fitting and functions in all the right ways. A tailored fit lets you look fashionable while keeping it hot hot hot. And for the gal who loves things a little more casual, the jacket was designed with athleisure in mind, the sporty edges and silhouettes of this jacket make it our number 2 go to. But – just because we're throwing around the word fashion, think not that this jacket doesn't function like it should. An instrument loop, front and back yokes, and soft knit panels give you the 'iFlexibility' you need to move around with ease.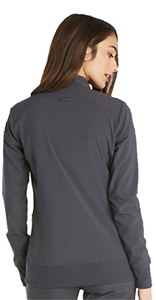 Dickies Dynamix
If you're on a budget, this cute line gives a little more edge and bang for your buck. The jacket has all the favorites to help you function, but gives a little more movement with a 9% spandex based fabric. It's looser than the iFlex jacket and definitely an option if you're on more of a budget. It retails usually about 50% less than the Cherokee iFlex. The sleeves offer various prints while retaining the knit rib feel for comfort. Definitely a goer for the budget conscious nurse. (we hear you, we're all on a budget) Find a retailer here http://dickiesmedical.com
The Scrubs Mag Favorite
Darlings, may we present to you, our most favorite jacket this season. The Cherokee Statement line. Designed by Sallian Song, Cherokee Uniforms Chief Designer and veteran with the company, this exclusive (and originally limited line) simply blows the scrubs off anything else. Elegant, chic and while the price tag is a little larger than some of the other lines, let's not act like we haven't spent more than $50 on a top to wear to some event, so why not invest when strutting the Hospital halls. We're secret admirers of Rayon material too, simply because it imitates the feeling of silk or cotton, but is made from stronger fibers that ensure the product last. With a sleek rose gold zipper and form to fit styles, we have to be honest that we've never received so many compliments when donning this scrub line. You can shop all Cherokee products at www.CherokeeUniforms.com.
Connect with each of the brands on social media:
Instagram: