6 tips for success as a senior caregiver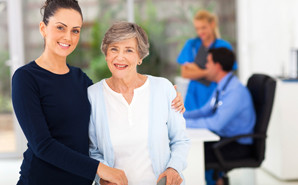 Do you work for a senior home care agency? Looking to get into agency work? While all of your standard nursing skills will work wonders here, there are other things you need to consider when doing agency work, especially with seniors. Here are six tips for success as a senior home caregiver:
Learn about the client's care needs: It is important to understand what medical conditions the client has in order to better relate to him or her and assist with care. Ask the scheduler and case manager to share as many details as possible with you prior to the assignment.
Map out the directions to the client's home and allow extra time for travel: Understand how to get to the client's house and find out about parking requirements if you are driving. If you are taking public transportation, allow extra time for bus or train connections. It is always a good idea to plan to arrive at the client's home at least 10 minutes early on your first day. As seniors can be very focused on punctuality, arriving on time will help to build trust with your new client.
Learn about the client's health issues: Learn about the medical conditions of the client. Ask your supervisor to provide you with information to read about the medical conditions prior to the assignment. This will allow you to be familiar with your client's challenges and know the best approaches for care.
Consider the client's interests: Many senior clients have had extremely interesting pasts. Ask questions and get to know them on your first day. How many children and grandchildren do they have? Did they serve in the military? Where else have they lived? What was their career? Are they a sports fan or do they enjoy a certain hobby? Take an interest in their interests and you will be able to engage them in conversation each day. Be on the lookout for news about their interests which you can share with them.
Give them a smile: Many seniors are not able to see their loved ones often or have outlived their closest friends. Be happy to see them and they will be happy to see you.
Dress appropriately: Always be neat and dressed appropriately to provide care. Wear scrubs if you are providing hands-on care. If you will be attending an event with the senior, ask them about the dress code. Clothing should be clean and fit well.
Caregiverlist.com is the nation's online destination dedicated to connecting seniors with quality senior care choices. Caregiverlist.com helps seniors and their loved ones define care needs, understand the many caregiving options and costs and connect to senior home care agencies that meet Caregiverlist.com's checklist of quality standards. Caregiverlist.com is also a leading caregiving career and recruitment resource. Visit www.Caregiverlist.com.
What advice would you give for succeeding at home healthcare? Leave your tips in the comments below!