About Dr. John Mayer
Dr. John Mayer is a practicing Clinical Psychologist who specializes in helping families attain healthy and happy lifestyles. He is a nationally and internationally known clinician, author and lecturer who frequently appears in the media addressing topics of critical concern in society. Dr. Mayer is particularly noted for his successful work with that dreaded, difficult age group: teens. He is the author of more than 14 books. His extremely helpful booklets, The Parents' Mini-Manual series, can be seen and are available at a website run by moms: nogginpower2.com. Visit Dr. Mayer's personal website at DrJohnMayer.com.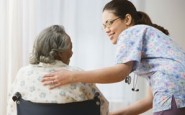 You are a nurse by profession, but at the end of the day, you are a human being…with human needs. Here are four techniques to combat the danger of losing yourself.