About Sonja Mitrevska-Schwartzbach
Sonja Mitrevska-Schwartzbach, BSN, RN, CCRN is a registered nurse in the cardiothoracic intensive care unit at a level one trauma center in the tri-state area. She left her corporate career in 2010 to pursue a degree in nursing, and has since worked as a nurse in cardiac transplant and heart failure as well as intensive care. She holds a Bachelor of Science in Nursing and a Bachelor of Arts in English Literature, both from Rutgers University. She is currently a nurse blogger for the Huffington Post. Sonja and her husband, Joseph, reside in central New Jersey. Despite being native to the state, they did not find love at the Jersey Shore, and only 50 percent of the couple endorses spray tans.
Article originally published on HuffPost by Sonja Mitrevska-Schwartzbach  BSN, RN, CCRN, ICU Nurse. Bibliophile. Caffeine Addict. Eternal Optimist. ___ What I aspire to do and what I hope to say becomes far more lucid when staring at a wide cobalt ocean on the breezy […]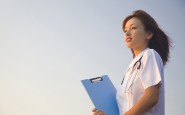 "The weirdest thing about being a nurse is that it's nearly impossible to disconnect the profession from the person." Do you agree?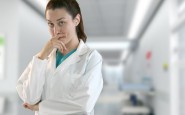 As an ICU nurse, I discovered that the only way I could survive the life or death scenarios that come with managing emergencies is through humor.