Holidays with your little ones are an opportunity to connect with them, relax and spend more time together as a family; but some inconveniences may occur such as forgetting some documents, or clothing, or the boredom of little energizers along the way. In this article, we'll provide some tips for you on how to prepare for a trip with children.
Early autumn is a great time for trips since the sun is not so scorching. In addition to making sure that you have enough comfy clothes from The Trendy Toddlers like toddler girl shorts and tees for toddler boys, there are some essential considerations that should not be ignored. Read on for some useful recommendations.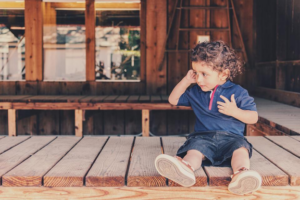 Transportation
Pediatricians point out that it is very important to consider whether to travel by car or plane. If you go on vacation by car, you must bring a safety seat for children less than 4.4 feet tall; make frequent stops, and travel while they sleep. For kids over two years, ask your pediatrician if you can give them some medicine against motion sickness.
If you decide to travel by plane, keep in mind that infants will have earaches when they land. And to calm them down, you can breastfeed them or give them a bottle of water or their formula. For older children, foresee a drink or gum to chew.
Feeding
The food and drinks that the children will consume during the trip will depend on their age. In the case of children under 6 months, they cannot ingest any other liquid other than breast milk or formula. If your kid is older than this age, keep your little one hydrated.
When you are in the process of starting complementary feeding, it is best to choose a comfortable destination where you have access to a refrigerator to keep your little one's porridge, or where you have access to the food that your little one can already eat. If you experience problems with complementary feeding, consider pausing this process for the period of your vacation. The change of the climate is already sufficient stress for your child – do not add new food to it.
Sun exposure
Children under six months should not be exposed to the sun. Pediatricians recommend dressing the little ones in comfortable and light clothes, preferably cotton.
If you go to the beach or you want to swim in the pool with your little one, make sure that they are not exposed to the sun for more than 30 minutes. And apply sunscreen with SPF 50+ protection.
Put the protective cream on every two hours. Kids can swim in the water every 30 minutes to avoid sunburns and overheating. Keep your baby cool, rinse them after the pool and sea to avoid rashes.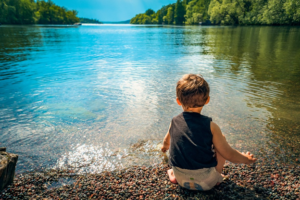 Insect protection
It is very important to apply insect repellent to protect children from mosquitoes, spiders, and even fleas or ticks. Before sleeping, don't forget to wash the skin of your little ones to prevent irritation from the repellent.
Check the duration time, those of natural origin do not last more than two hours. For those repellents that contain chemical substances, depending on their concentration, it is recommended to apply them from two to four hours, or up to 12 hours if they are more concentrated. But, of course, they are not suitable for infants. For them, make sure that the composition is natural.
Benefits of traveling with children
You might think that a vacation with a little one requires too much preparation and probably, it is better to postpone it. However, there are some benefits that could change your mind:
You will get to know new cultures together. Traveling is a way of learning about culture, architecture, customs, food, and many more components of another culture.
They create memories. Family vacations will be in your children's memory forever and they will remember them with much love.
New skills. Whether it's learning to walk, taking photos or fishing, kids will learn skills while on vacation.
Tolerance and respect. By getting to know different cultures, your little ones will learn that we all are different, so you have to respect others, as well as be tolerant of their ideas and beliefs.
Encourages imagination. New places motivate your child's creativity to imagine stories.
Reduces stress. The rush, schedules, and pressure from daily tasks disappear, so your family will be more relaxed.
Over time, family trips become beautiful memories that you treasure in your memory. There will always be unforeseen events on vacation but the most essential thing is to enjoy every moment because your naughty kid will grow faster than you imagine. Planning will help you reduce the stress of preparations and incidents that may arise.