It's PRIDE month, a month that is dedicated to LGBTQ+ people across America to celebrate the diversity and inclusivity that is a cornerstone for the community. But this year, PRIDE month looks different. The Human Rights Campaign group declared a National State of Emergency for the LGBTQ+ community after more than 75 anti-LGBTQ+ bills were signed into law this year alone, pushing discrimination to an all time high. In 2023, PRIDE month is more about protesting ones rights than celebrating history. But where does homophobia stem from? In this article we dig deeper into the data and ask, is homophobia a mental illness?
According to the FBI, the number of hate crimes in the U.S. increased 12% in 2021 compared to the previous year. Of those, 15.9% were directed at victims because of their sexual orientation or gender identity. A new study by the Williams Institute at UCLA School of Law shows that LGBTQ+ individuals are nine times more likely to be victims of hate crimes than non-LGBTQ+ people.
Victims of LGBTQ+ hate crimes are also more likely to be younger and have a relationship with their assailant compared to victims of other hate crimes. The experience can also have a devastating effect on their mental health with an increased risk of depression, anxiety, suicidal ideation, post-traumatic stress disorder, and substance use. It can even lead to feelings of blame and less empathy for other victims of hate crimes.
Hate Crimes and Mental Health
The U.S. is known for having high rates of anxiety, depression, and other mental health issues, which could help explain why the number of hate crimes is on the rise. The COVID-19 pandemic only made the issue worse. According to a recent KFF/CNN survey, 90% of U.S. adults believe the country is facing a mental health crisis.
In 2022, the New York Police Department's Hate Crimes Task Force told members of the city council that 47% of those arrested in connection to hate crime attacks had been previously designated as being "emotionally disturbed," which means the person "appears to be mentally ill or temporarily deranged," according to the patrolman's handbook.
"Forty-seven percent of hate crimes being committed by emotionally disturbed people is no surprise to any of us," said Council Member Julie Won in an email to The Gothamist. "The current shelter and criminal justice systems do not have timely, consistent mental health screenings or long-term mental health care to ensure that repeated offenders of violent crimes or anyone that could be a danger to themselves, or others receives any impactful treatment that could stop these violent events."
Reclassifying Homophobia
Someone who commits a hate crime against the LGBTQ+ community is often described as homophobic, but does having an aversion to or fear of a certain group of people qualify as a mental illness?
In a recent instagram post, KTLA news cited California as being the number 1 state for attacks on LGBTQ+ people. The comments that followed were unfathomable, Over 1,000 people took to the commentary to divulge their disgust in the LGBTQ+ community.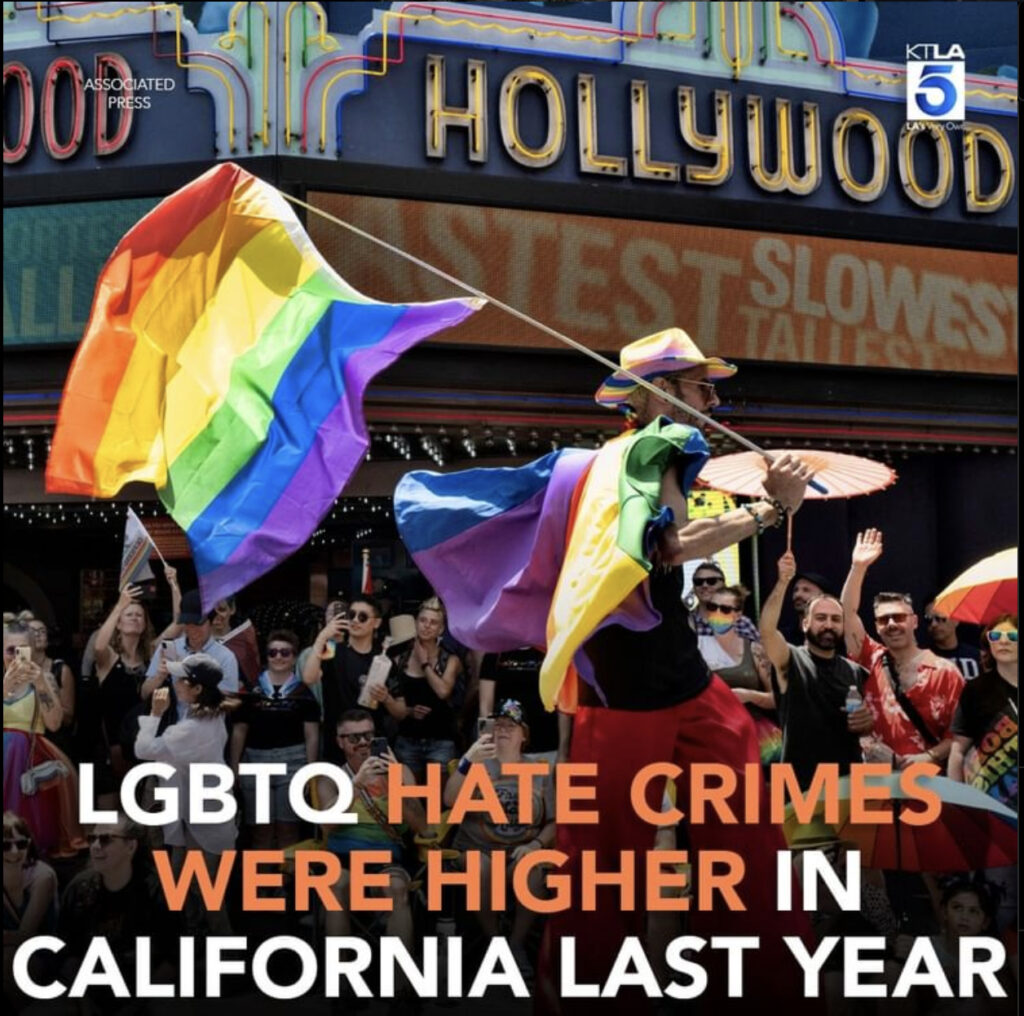 Andrew Ramirez of La Poblana Restaurant, an owner of a low rated restaurant in Puente didn't stop short of his opinions. "People are upset because children are being targeted and influenced. Kids are vulnerable to the idea of the LGBT community" Ramirez stated. La Poblana restaurant, according to the Secretary of State's website has been delinquent in it's filings for the past 10 years and faced suspension in 2013 for failure to file statement's of information.
Andrew Ramirez – Poblano Restaurant
John Paul Moreno, a sales executive at BMW Sterling, known as @mr.m_e92 on Instagram went one step further. "Pedophiles", "Sick Fucks", and "none of that shit is natural in nature" was some of the colorful language Moreno chose to use in his social media attacks.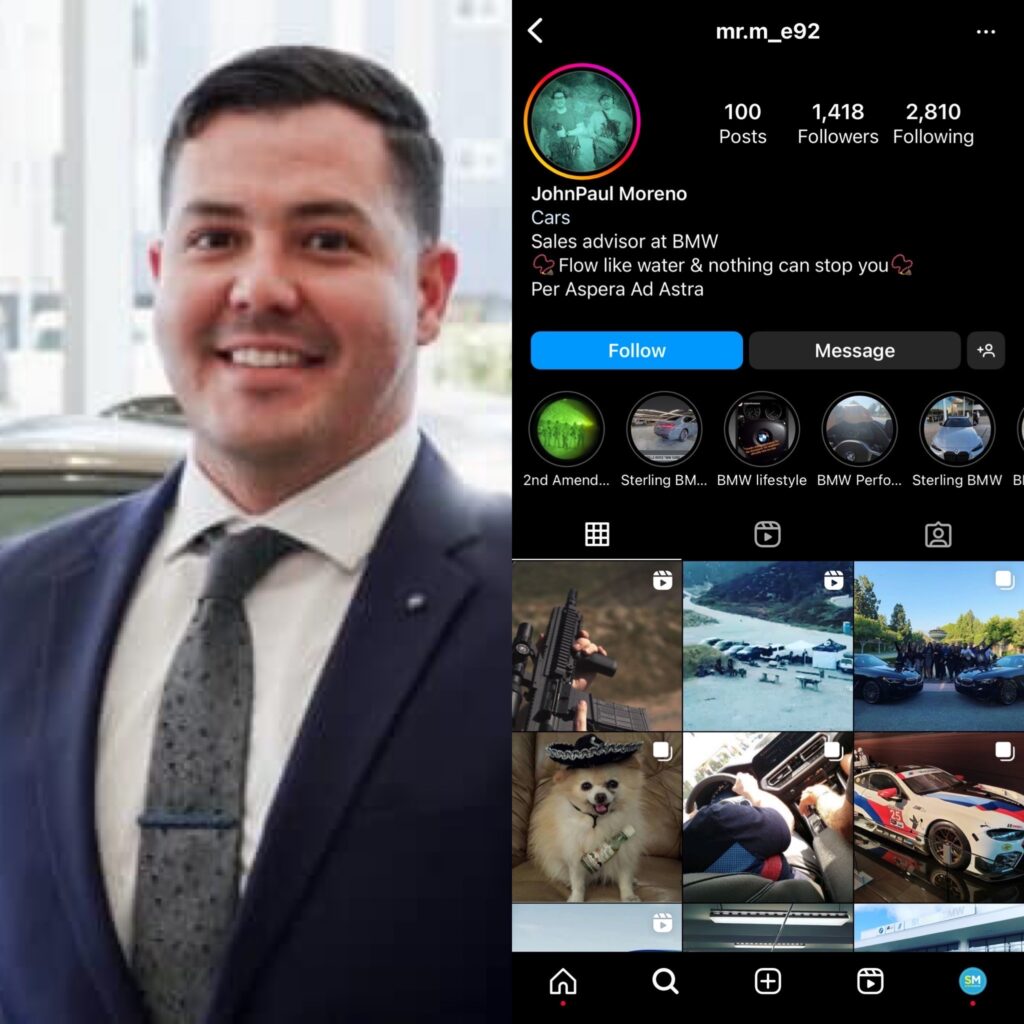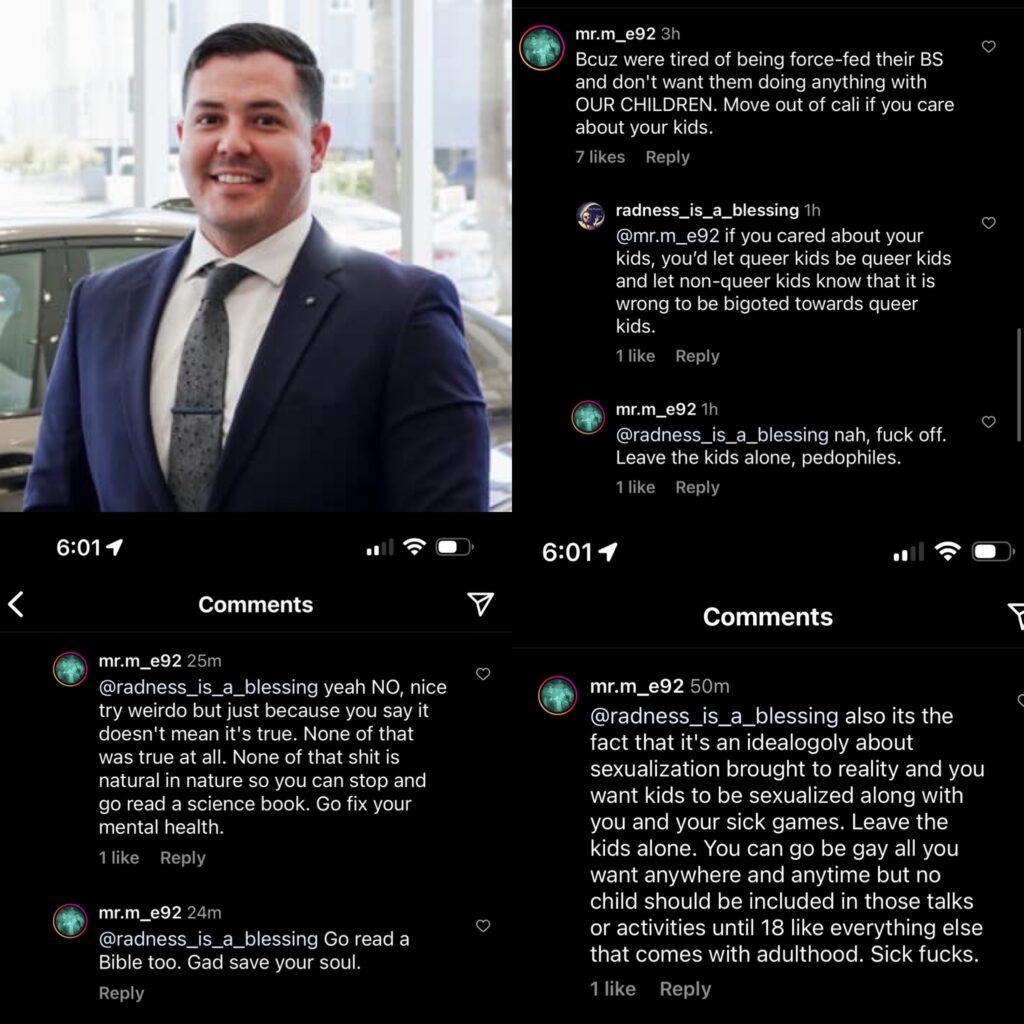 John Paul Moreno
Scrubs Magazine reached out to Mike Reade of Sterling BMW and BMW North America for comment. Whilst Sterling itself did not respond, Phil Dilanni of BMW North America Corporate Communications commented:
"First and foremost, please be aware that Mr. Moreno is not an employee of BMW of North America, but rather he is an employee of one of our independent dealerships. BMW believes in equality for people of all races, genders, and sexual orientations. We support the freedom of individual expression and the rights of each person to live a happy and fulfilling life. Rest assured that this matter has been brought to the attention of his employer."
Changing the Narrative
Homosexuality was considered a mental illness in the U.S. up until 1973. Fifty years later, experts are starting to look at homophobia in the same way. Homophobia is defined as "an extreme and irrational aversion to and hostility toward gay or lesbian people, or those generally believed to be deviant from traditional gender stereotypes."
A true phobia is defined as "an extreme or irrational fear of or aversion to something." The Journal of Personality and Social Psychology says homophobia is more than just feeling uncomfortable or irritated around LGBTQ+ individuals. It is an irrational fear of something that doesn't exist. Experts say if a person's reaction to homosexuality is visceral, automatic, or physical, such as increased heart rate, faster breathing, and hot flashes, they may be suffering from a mental disorder.
Homophobia can occur at the institutional level through religion or the heteronormalizing of society, but it can also be internalized. According to the National Institute of Health, internalized homophobia is associated with a high prevalence of internalized mental health disorders, including depression, anxiety, and stress/trauma-related disorders.
Perpetrators of LGBTQ+ hate crimes may be dealing with a mental health issue or struggling with internalized/institutionalized homophobia due to previous homophobic experiences, fear of being "outed," or their own struggle with homosexuality. Experts have tried to explain this behavior using the minority stress model, which states that "minority stress derives from the conflict between being a minority and dominant social and cultural values, and may be based on homophobic experiences, harassment, maltreatment, discrimination and victimization, all affecting individuals' physical and mental health outcomes," wrote Ilhan Meyer for the Journal of Health and Social Behavior.
Treating homophobia as a mental health condition instead of a social trend or personal preference and increasing social awareness around the issue can help improve the country's mental health crisis while reducing the number of LGBTQ+ hate crimes in the future.