A picture says a thousand words. As a nurse, those words can mean everything when you're trying to take care of eight patients at once. Providers will occasionally snap photos of themselves, their colleagues, or patients on the job to capture memories that will last a lifetime. It's also a great way to break up all the doom and gloom that comes with being a nurse. Patients will often ask for a photo, so they can remember the person that took care of them when they were at their worst.
We asked millions of nurses to send in their heartwarming photos and the results had us in tears.
My Grandmother, who was an RN. I wanted to be a nurse since I was 4. Graduated with my BSN in 1976. My role model.
Mary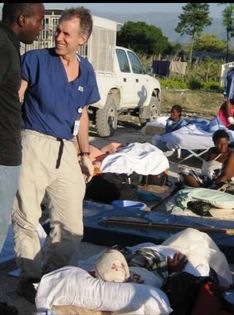 After the 2010 Haiti earthquake, my husband and I were down there within 48 hours to help provide emergency trauma care. We were both nurses for about 20 years when this happened. Going to a poor country and doing volunteer work will change you forever. We already had a serving heart but to be humbled like this gave us a new perspective on the important things in life.
Bonnie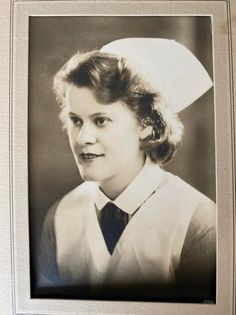 My mother maintained her nursing license up to the age of 95. She graduated from Henry Heywood Hospital in 1944.
Sharon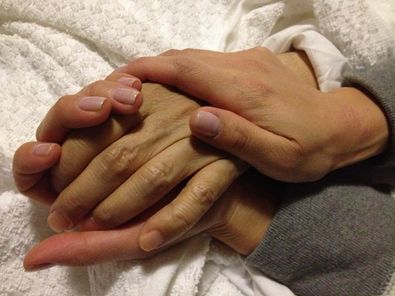 Last moments holding my mom's hand… I started nursing school after my mom was diagnosed with Multiple Myeloma (during the time she was in remission). I was able to graduate nursing school (with an ASN) before she passed away. She had told me in the last few months she wanted me to "finish all the way" and I passed my NCLEX and completed my BSN shortly after she passed away.
Mimi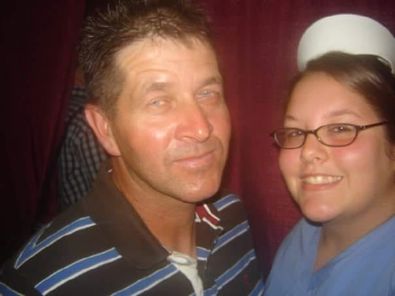 My dad suffered a major heart attack when I was 15 (2005). After that day I knew I needed to be a nurse. I wanted to save people like my dad. This photo is from 2008 at my LPN 1 graduation. Can't wait to get one with him in December when I graduate with my RN.
Jenny
We had a very young woman (early 20s) stay in our long-term care facility for a period of time. I was caring for her one evening, and she was really taken by my manicure. So, I took some time the next evening and did her nails for her.

Her smile and how happy she was were all I needed. I took this picture of her hand (with her permission).

I got into healthcare to try to bring some happiness to a person's rough situation whenever I can.
My aunt Cindy inspired me! We went on to become MA together and she continued to encourage to move forward. I'm now a LPN and continue to work on my education. She is my inspiration for becoming a member of healthcare. I have had lots of wonderful doctors, nurses, and clinical instructors on the way that continue to encourage my growth. Could not be more proud to be in this field, but have to give some credit to my beautiful aunt that started my journey!
I'm off to university in October to study nursing. I spent the last 3 years as an HCA at the hospital. I made the change after my youngest had open heart surgery when he was 6 months old. I wanted to give back. He's now a thriving almost 4-year-old.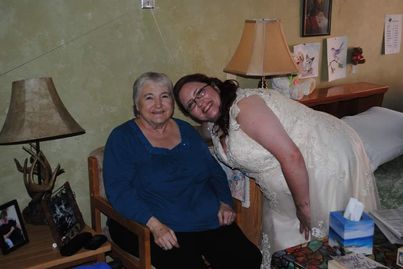 This beautiful lady was a client of mine when I was a Home Health Aide. I cared for her while planning my wedding, until she was transferred to LTC. I ended up having about 20 minutes to spare between getting ready and heading to the venue, so we stopped at the LTCF and were able to make her a part of the special day.
A moment in the life of a PICU nurse.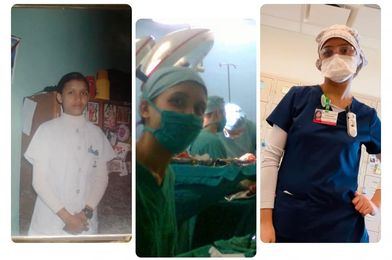 I started nursing school in 2005, got my first RN license in 2009, started as an OR nurse, and became U.S RN in 2019. I served as a Covid nurse and still going on. So many memories, mostly good ones. My dad got me into nursing mainly. I am the first nurse/medical person in my family generation, and the second person to become nurse in my community back home. I persevered because the profession suits me the best, although feeling burnout recently, safe to say, I know nothing else other than nursing.
My daughter with my grandmother, her great grandmother. This was grandmother's final hours before she passed. She was 18 in this picture, already a CNA working at a nursing home, Alzheimer's unit. She had just started her nursing blocks for RN. Today she works in the ICU doing what she loves.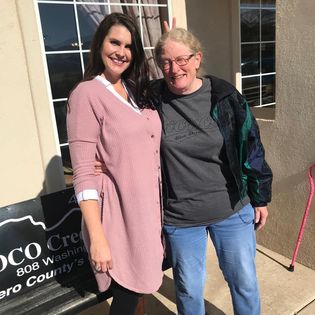 This was my ICU preceptor who not only taught me the ins and outs of all things ICU related but she taught me how to manage what life throws at you. This wonderful clinician survived meningitis that resulted in an ischemic stroke, but she has only shown resiliency – teaching herself how to walk, write, and talk all over again. Her biggest disappointment was losing her CCRN credentials that she had maintained for over 10 years and being unable to care for patients. Absolute role model.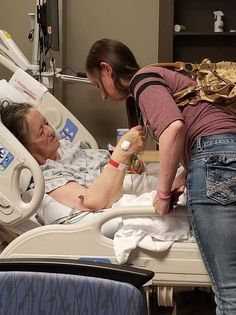 My momma. I was a phlebotomist, but after my mom died, I went and got my LPN.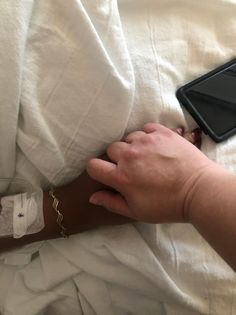 I was inspired to go into nursing after I had my daughter. I was dead set on doing L&D. It was hard to get an L&D job straight out of school, so I ended up on a surgical floor. Part of our service is gynecology oncology.

Six years later and I'm still on my floor. I feel like I am supposed to be with my ladies until the end. This is one of my favorite patients who has outlived cancer longer than anyone thought. When patients weren't allowed visitors, I snuck over to see her anyway. My patients become family when you've taken care of them for so long through so much heartache.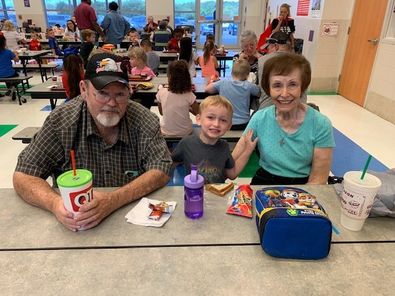 This amazing woman is my mother. When I was 14, she had a severe bowel obstruction that ruptured. Seeing the nurses care for her inspired me, and that's when I decided to be a nurse. In this picture she is fully recovered from her surgery, as its many years later, and she and my dad are eating lunch with my oldest son for Grandparents Day.
Thank you to everyone who shared their photos online.