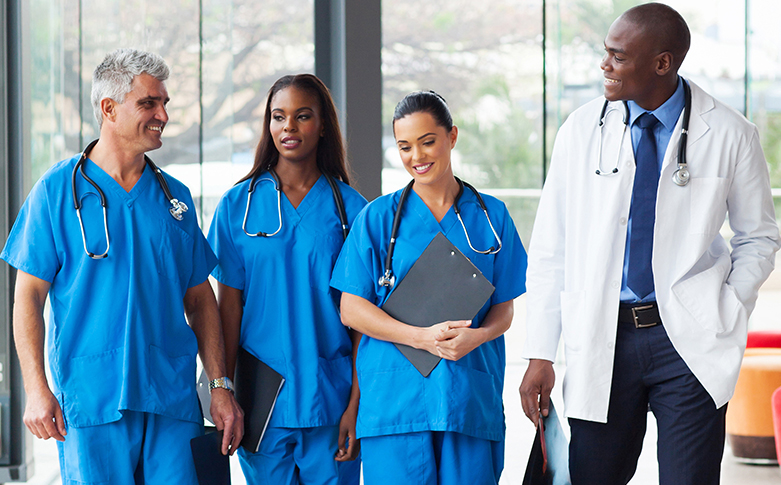 So—word on the street is that you want to advance your nursing career…
Way to grab the bull by the horns. We're all about that.
But you haven't found that sweet spot of a niche yet. And that's sort of a major step in the process, since it's also, you know, the very first one.
Which is why we thought now would be a great time to introduce you to four of the lesser-known masters in nursing degrees. Worst case scenario? You think to yourself, "nah," then take to Google search (landing on Pinterest in t-minus 5). But it can't hurt to window shop for a minute or two with us here first. Who knows? Maybe one of these under-the-radar degrees will be just the match you need to help carry you onwards and upwards.
4 nursing degrees you may never have heard of
1. Forensics/Law
Do you absolutely kill it at Clue? Or maybe tuning into Law and Order SVU has been your go-to "melt in the couch" activity for eons now.
If you checked the box marked "yes," then you're basically already a crime-solving victim's advocate, so you might as well make things official by lending your skills to forensic nursing. Here's the lowdown on the gig:
Forensic nursing usually requires a master's degree in nursing with special training in law, evidence-gathering, ethics, psychology, physiology, criminal justice and other details (so basically everything you could ever want to know…ever). Expect to be employed by law firms, prisons or hospitals to address the needs of victims OR perpetrators. Forensic nurses also may have the ability to become self-employed, functioning as independent contractors for their services. So there's that.
Some nurses choose to obtain a doctorate degree directly in law and function as RN/JDs (juris doctors). These nurses can function as both nurses and attorneys.
If you are interested in medical law, but you're way less into obtaining a higher degree, consider legal nurse consulting. Several certificate programs exist in the USA, and here's the real selling point—they require minimal class time and monetary investment. Plus, legal nurse consultants (LNCs) help both prosecution and defense lawyers determine case timelines and deviations from nursing standards of care, so you can still get your hands dirty (in the best way possible).
2. Informatics
Nursing informatics used to be an obscure field, but with all the recent implementation of electronic medical records (EMRs), this degree has become rather popular. Makes sense, right?
Anyways, with this master's degree in hand, you can expect to be in high demand because the fat lady is nowhere close to singing when it comes to the whole healthcare-going-digital thing. The best part? An informatics degree often requires fewer clinical hours than standard MSN programs.*
*You may applaud now.
3. Research
These degrees can be tailored to include heavy involvement in new or current research studies, so there's sure to be something for you. If you decide research is the path for you, be sure to look into all the extra fixings that'll help loop you in, like courses about obtaining research grants or designing research studies.
We recommend you study a course list, courtesy of your desired school(s), to determine if a research emphasis is possible. This particular degree specialty may be hidden within generic descriptions like "Master of Nursing Science" or "Doctor of Nursing Science," so be sure to keep a sharp eye when researching…research?.
It's also important to note that as a research nurse, you may or may not have contact with clients. So depending upon your personality, that could be a major perk—no?
4. Holistic Care
Alternative medicine is big business here in the USA as clients with chronic health problems seek solutions that involve fewer medications and invasive procedures. We're also pretty sure Whole Foods has something to do with it…
Anyways, holistic care focuses on healing the person as a whole instead of just treating signs and symptoms. You can become a holistic nurse practitioner or a certified holistic nurse by completing a bachelor's or master's degree program in nursing, then applying for certification.
Are you enrolled in a little-known advanced degree program, or have you completed one recently? Share your valuable input with us in the comments!