On May 20th, Jonathan Escalante (26 years old) was diagnosed with Acute Myeloid Leukemia. One of the most aggressive forms of cancer, AML starts in the bone marrow (the soft inner part of certain bones, where new blood cells are made), but most often it quickly moves into the blood, as well. It can sometimes spread to other parts of the body including the lymph nodes, liver, spleen, central nervous system (brain and spinal cord), and testicles.
For the past week, Jonathan has been undergoing his first round of chemotherapy. But the story doesn't end and didn't start here.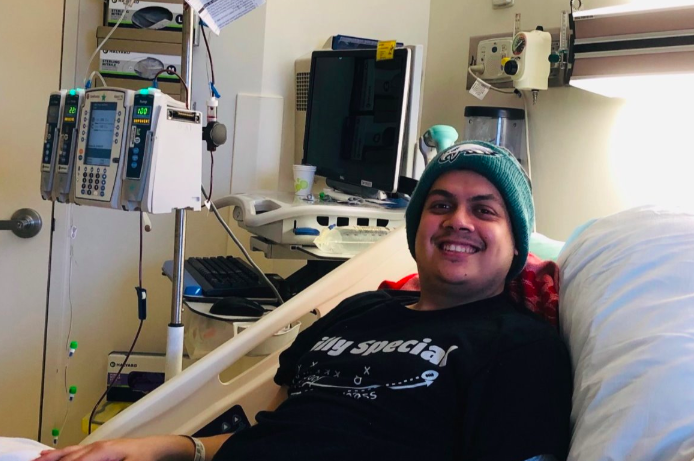 Burnout, or something more?
Two months ago, Jonathan started to feel lethargic, tired and needing to take regular breaks. The industry of healthcare can be demanding, a recent study from healthcare company PRC revealed up to 15% of Caregivers felt burnt-out and 50% didn't plan to do anything about it.
Help with Jonathan's GoFundMe https://www.gofundme.com/f/prayers4jon
Jonathan, like other health professionals is a hard worker. Matthew Bernstein, Jonathan's employer at Elite Sports Medicine in Woodland Hills commented 'Jonathan is part of the reason we're successful. I've never met such a hard working individual in my entire career. He's like family to me'.
Jonathan knew something was wrong, but a visit to his regular doctor came back with nothing. Perhaps flu, a routine illness. He was sent home with regular over the counter meds. But Bernstein wasn't convinced.
'Jonathan slowly started to get worse, but he would shrug it off. He would forget things, need to sit down for a few minutes and generally just look tired. It could easily have been burn out. He came to the office on his last day and I immediately called my Doctor, Sam Fink. I told Jonathan he's going to see my doctor and I won't take no for an answer'. Bernstein said.
Misdiagnosis
Within 15 minutes of Jonathan seeing Dr Sam Fink, Jonathan was rushed to Cedars Sinai, blood results showed the aggressive cancer. Therapy began almost immediately. Jon has already conquered one week of intense chemotherapy since he was diagnosed. His treatment will require intensive chemotherapy and bone marrow transplant. Jonathan will spend the next two weeks at Cedars-Sinai Hospital under close observation. His repeat bone marrow biopsy will determine the next steps in is treatment.
When to Get a Second Opinion
Misdiagnosis is nearly twice as likely to be a leading factor in patient deaths according to a study by CBS. Up to 12 million Americans were estimated in one year to be misdiagnosed. The 12 million amounted to 1 in every 20 patients and led to 10% of all patient deaths.
While the insurance business in America is relatively stringent when it comes to paying out, you may be entitled to second opinion coverage. Call your insurance provider to see if they will pay for a second opinion appointment. Cancer.org lays out specific points as to what you can do leading up to, during and after a second consultation. https://www.cancer.org/latest-news/getting-a-second-opinion.html
The Escalante family's medical bills are stacking up, to help with their Go Fund Me, visit https://www.gofundme.com/f/prayers4jon – friends and family have already raised over $11,000 of their $150,000 goal.
UPDATE – Wednesday June 15th 2019
Scrubs Magazine is following the heart wrenching story of Jonathan Escalante. Today we write an update to this article on his progress.
We spoke to the family and the doctors who are helping treat Jon.
'We need to see if his marrow is clean this week. At the moment, Jon's being treated with a cocktail of antibiotics, we're hoping this helps. This week we're looking at a marrow biopsy and will then move onto a treatment plan.' his wife said.
What's coming next unfortunately isn't pretty. In an effort to stem the cancer, he will be annihilated with chemotherapy for the bone marrow transplant. Then? Jon will be placed in isolation to ensure no bacteria or threats can enter his system.
The future for Jon is hopeful, but the family are realistic. This type of cancer will kill a human being in an instant, but he remains in good spirits. The next steps for Jon are to receive a bone marrow transplant. It will take months for him to regain his strength and immunity.
We're rooting for you Jon, along with the Scrubs Mag community.
If you would like to donate to Jon's family, please click here https://www.gofundme.com/f/prayers4jon