This post is sponsored by Cherokee Uniforms.
Trendsetting celebrities like Victoria Beckham, Kendall Jenner, Hailey Bieber and the Hadid sisters have been spotted of late with their tees, blouses, and other tops tucked, bringing back a classic trend that has come and gone many times over the years.
This recent spate of tucking may have something to do with the prevalence of menswear-style suiting hitting the fall runways and sliding to the streets like gangbusters, but that doesn't mean you can't steal the style to shake up your own work wardrobe this summer.
The unfortunate truth is that traditional scrub tops are not ideally suited to tucking. These stiff garments won't lay flat when tucked, nor will they blouse attractively, making them a poor choice. However, if you want to take advantage of this trend, which is not only timely, but also practical for work purposes, you'll be happy to hear that several brands of scrubs have released tuckable styles perfect for updating your look.
You may not be able to sport the suiting styles seen on Balenciaga and D&G fall runways, but with the right scrub tops from Cherokee, HeartSoul, Dickies, and others, you can definitely gain the versatile styles that look just as good worn tucked or out.
Join the Workwear Revolution
Cherokee hits the mark with two tuckable additions to their Workwear Revolution line: the Princess Seam V-Neck and the simple V-Neck Scrub Top. The Princess Seam V-Neck features a shallow V with modesty panel that's totally work appropriate, but still extremely flattering, along with advertised princess seaming front and back for a fitted, nipped-in waist that delivers an hourglass illusion for every figure.
Side splits and a slight, high-low hemline offer a trendy look when worn out, but also allow for easy tucking that lies flat so you won't have to deal with unsightly bulges under your waistband. Stretch knit yokes and necklines add comfort and the perfect fit, while a cell phone pocket and bungee ID loop target needed function. Available in seven modern shades that offer endless mix-and-match potential.
As for the V-Neck Scrub Top, a looser fit allows for attractive blousing when tucked, even for those with a thicker waist. The curved hemline ensures this top looks equally attractive when worn untucked, and you can choose from eight elegant colors to update your style. See more www.cherokeeuniforms.com
iFlex Your Fashion Muscles
Another offering from Cherokee, the iFlex V-Neck Knit Panel Top comes in black, navy, pewter, or Caribbean blue. This style offers the appeal of mixed media thanks to contrast knit panels front, back, and at the neckline for added dimension and a subtle, color block effect enhanced by princess seaming front and back.
The straight hemline (with slight shirttail in the back) begs to be tucked, and with a little blousing, you'll still enjoy the utility of the kangaroo pocket, situated between front princess seams. Stretch dobby fabric moves with you, providing the comfort, fit, and performance you need when you're on your feet all day. Check out the entire collection at https://www.cherokeeuniforms.com/cherokee/cherokee-iflex.html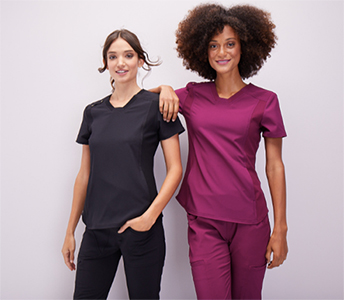 Break on Through Fashion Barriers
Heartsoul has modern scrub style on lockdown, and the Roxy V-Neck Top from their Break on Through collection is no exception. he sporty, short sleeve, t-shirt style is enhanced by an attractive V-neck, accented by a charming Henley-look neckline featuring matching, flat rivets. A chest pocket and hidden zipper pocket provide places to stash your gear.
The high-low shirttail hemline, paired with side vents, is easy to tuck, and the fine dobby fabric is soft enough to blouse beautifully, even though the contemporary cut is designed to fit close to the body for figure-flattering appeal. Wear it tucked or out in four neutral shades (black, navy, pewter, or white) as well as brilliant royal blue or pink party hues. See more, here http://heartsoulscrubs.com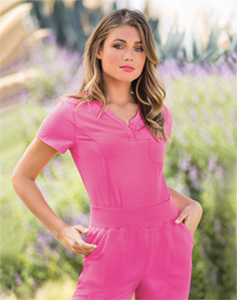 A Dynamix Approach to Your Work Wardrobe
The V-Neck Top from the Dickies Dynamix line comes in black, navy, or pewter to pair with literally any pant. This wardrobe staple features princess seaming in front and back for contoured shaping, but fits a bit loose to accommodate tucking and blousing, whether you like a modern front-tuck look or you tuck it all around.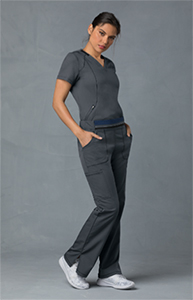 A front inseam zip pocket and sleeve patch pocket are perfect for holding your smartphone and ID badge, and striped knit accents at the neckline draw attention up to your friendly face. You can see more of the Dickies Dynamix line here.
Follow all these fantastic brands on Instagram at: