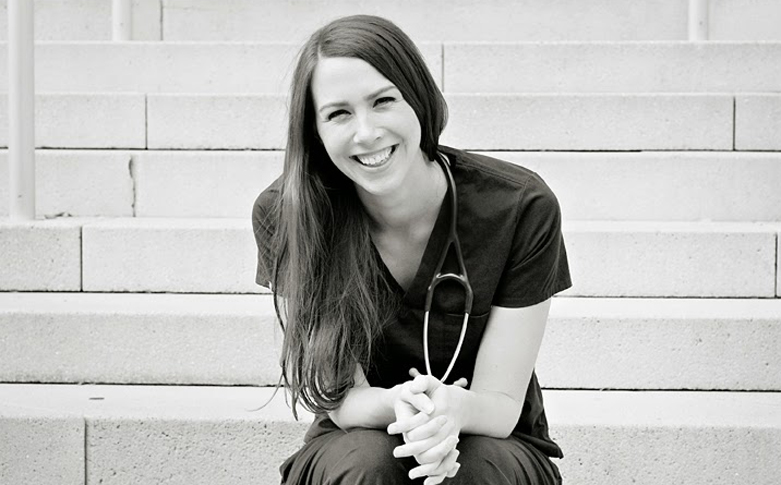 Kati Kleber, RN
Unos cuantos consejos de Kati Kleber (conocida como la enfermera Eyeroll) para esta experiencia tan estresante…
1. Duerme bien la noche anterior. Si estás tan nerviosa que no puedes dormir (algo muy común) tómate un Benadryl o algo.
2. Come algo antes de que empiecen las prácticas, incluso si no tienes hambre. Cada semestre tenemos un nuevo grupo de estudiantes de enfermería y cada semestre alguno de ellos se desmaya.
3. Admite cuando no sabes algo. No supongas. Todos odian eso. Si no sabes que electrolito vigilar después de suministrar 40 mg de Lasix intravenoso, dilo.
4. No seas un lameculos. Lo ven con la misma facilidad que ven a través de tu uniforme blanco (¡llevad bragas color carne, señoritas!).
5. PRESTA ATENCIÓN DURANTE EL INFORME Y POR FAVOR NO INTERRUMPAS. Si tienes alguna pregunta, espera a que terminen.
6. Preséntate voluntaria para hacer cosas cuando preguntan a todo el grupo, pero también dale la oportunidad a otros.
7. No te quejes de compañeros de clase, las clases o los profesores. No les importa.
8. Haz tu trabajo a tiempo y si no sabes cómo priorizar, pregúntalo de manera que no parezca que estás buscando la respuesta. "No estoy segura de cuál es la mejor manera de hacer esto o cual debería ser mi prioridad. Pensaba hacerlo de esta manera… ¿tú qué opinas?"
9. Si estás trabajando con las enfermeras y los auxiliares de la plantilla, sé amable. El instructor siempre nos pregunta qué pensamos y somos brutalmente honestos. Si te sientas mientras el auxiliar hace el 90 por ciento del baño, tu instructor se enterará.
10. Enfoca las prácticas como un aprendizaje práctico. No busques más en ello. La gente se preocupa demasiado por demostrar que tienen razón y el instructor se equivoca, haciendo las cosas mejor. Resulta extenuante e inútil porque una vez termines la escuela de enfermería te olvidarás totalmente de esto. Yo ya me he olvidado del nombre de todos mis instructores. Acepta que algunos instructores son estúpidos y quieren que te sientas estúpida y a algunos realmente les importas. También es así en el trabajo. Ve a las prácticas, aprende todo lo que puedas, saca provecho de la oportunidad de aprender y ve a casa.
Para leer más, visita NurseEyeRoll.com
Aprender cómo ser una enfermera estupenda en el trato al paciente sin perder la salud mental en casa no es una tarea fácil. Becoming Nursey: From Code Blues to Code Browns, How to Take Care of Your Patients and Yourself habla de cómo vivir de forma realista como enfermera, tanto en casa como en el hospital… con un poco de humor y algunas travesuras. Prepárate: está a punto de liarse. Puedes conseguir tu copia en NurseEyeRoll.com, Amazon o Goodreads (ebook).