California, New York, and Illinois have declared states of emergency over the latest monkeypox outbreak. All three are running out of supplies as the number of confirmed cases continues to grow. The CDC has reported 6,000 cases of monkeypox all over the U.S., but experts believe cases are being underreported.
The World Health Organization recently declared monkeypox a public health emergency. Widespread testing is necessary to keep the outbreak under control, but the U.S. doesn't have enough tests or vaccines to go around. Activists say the government should've been better prepared to deal with the crisis just two and a half years after the start of the COVID-19 pandemic. But the situation will likely get worse before it gets better.
Here's what you need to know:
What is Monkeypox?
Monkeypox has been around since it was discovered in 1958. It is caused by a virus that is in the same family as the variola virus, which causes smallpox. It leads to similar symptoms, including pimple or blister-like lesions on the face and skin, as well as flu-like symptoms, including headaches, fever, muscle aches, chills, and respiratory symptoms. It is not as severe as smallpox and is rarely fatal, but it can be extremely painful. The rash can appear on the genitals or anus as well as the hands, feet, chest, face or mouth. The legions will eventually scab before they heal.
The virus was originally linked to a research colony that kept monkeys, which is how it got the name monkeypox, but the source of the disease remains a mystery. The first case was recorded in 1970. Up until the recent outbreak, almost all cases either occurred in Africa or in those that recently traveled to the area.
How Does Monkeypox Spread?
Monkeypox spreads through close, intimate skin-to-skin contact, including but not limited to sexual intercourse. It is not considered a sexually transmitted disease (STI). Instead, the virus lives in the rash. Hugging, kissing, oral and anal sex can all lead to infection. It can be passed along by touching another person with the rash or objects that have come in contact with the virus, including clothes, towels, and other surfaces. It can also spread through contact with respiratory secretions.
It can also be passed from animals to humans if someone is scratched or bitten by an infected animal or if they eat the meat of an infected animal.
Infection usually lasts between 2 and 4 weeks. A person is considered infectious from the time symptoms start until the rash has fully healed and a fresh layer of skin has formed.
It's not clear if someone can spread the virus even with no symptoms or whether it can be spread through semen, vaginal fluids, urine, or feces.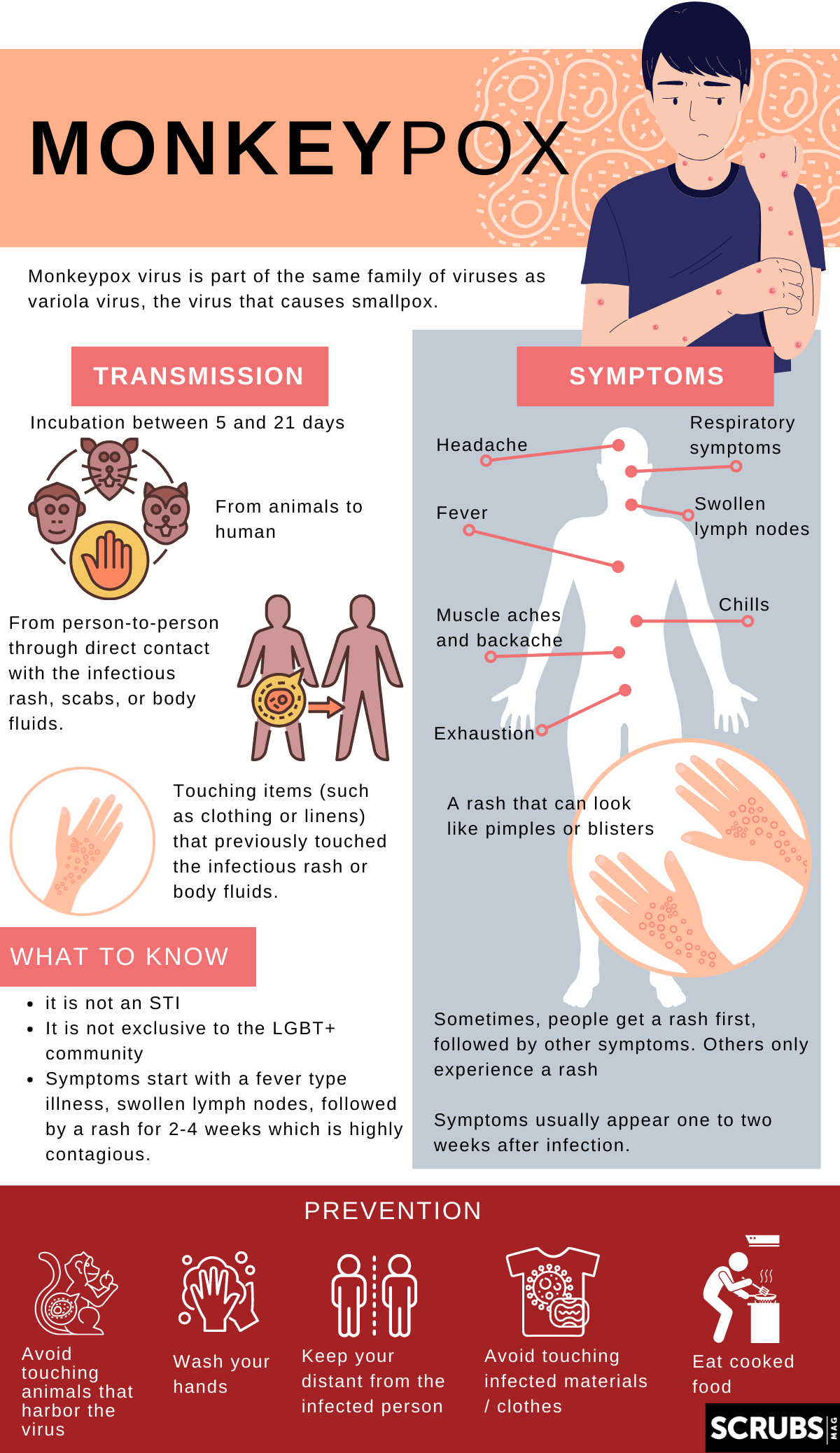 Combating the Outbreak
Healthcare providers are scrambling to meet demand for monkeypox testing and vaccines as the outbreak continues.
The virus has mainly affected men who have sex with men, but anyone can get infected. Experts are raising awareness to keep the public in the know.
By calling a state of emergency, California will send more providers across the state to administer the monkeypox vaccine. Officials are also expanding the pool of people that qualify for inoculation despite the current vaccine shortage.
"California is working urgently across all levels of government to slow the spread of monkeypox, leveraging our robust testing, contact tracing and community partnerships strengthened during the pandemic to ensure that those most at risk are our focus for vaccines, treatment and outreach," Gov. Gavin Newsom said in a news release.
The state has so far received over 61,000 doses of the vaccine and has distributed over 25,000.
Public health experts believe stigma around the disease and its connection to the LGBTQ+ community may be fueling the spread.
"Our team is also committed to reducing stigma among the LGBTQ community, which has been singled out and treated unfairly because of this outbreak. No single individual or community is to blame for the spread of any virus. Monkeypox can affect anyone as it spreads by skin-to-skin contact, as well as from sharing items like clothing, bedding and towels," said California Public Health Officer Dr. Tomás Aragón.
New York is moving in a similar direction. Gov. Kathy Hochul announced a state of emergency on July 29.
"More than one in four monkeypox cases in this country are in New York State, and we need to utilize every tool in our arsenal as we respond," Hochul said in a statement. "It's especially important to recognize the ways in which this outbreak is currently having a disproportionate impact on certain at-risk groups."
The state is ramping up its vaccination and testing programs to keep vulnerable populations in the know. The executive order also expands the pool of certified officials who can administer vaccines, including EMS personnel, pharmacists, and midwives.