Her name was Vivian Monore Denmark, "Queen V," for short. She was the boss of our household as the youngest of our three children. Vivan was a free-spirited five-year-old girl who loved strawberry picking, wrestling with her siblings, wearing tutus while building lego houses, and most of all, she loved her family. There wasn't a day that went by when my daughter Vivian didn't say she loved us. These words have echoed through my mind daily since her passing on January 14th, 2023.
She was our rainbow baby that popped into our lives unexpectedly a few weeks after a miscarriage while I was a second-year resident physician training in family medicine. Unbeknownst to us, our miracle baby Vivian had a genetic condition called Ehlers-Danlos Syndrome. In fact, my other two children have this disorder inherited from my husband. Ehlers-Danlos Syndrome is a genetic disorder that affects connective tissues in the body, leading to joint hypermobility, chronic pain, and a host of other conditions.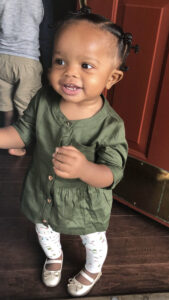 You may wonder how my husband lived almost 40 years and had three kids without ever being diagnosed – simple medical bias. My family exhibited symptoms ranging from keloid skin, irritable bowel, joint pain, vision disturbances, etc., often attributed to other conditions, not EDS. Our oldest daughter even had a brain bleed when she was three, and again there was no deep look into the cause of them all. As a resident physician early in training, I relied on feedback from more senior physicians to guide me on treatment.
Fast forward to 2021 where I am now an attending physician running a clinic and working as a hospitalist. Vivian falls ill with recurrent nightly episodes of asthma. Her attacks were so severe that I just knew something else had to be causing her symptoms. At the same time, we could correlate some of these attacks were triggered by food intake. Now, as a practicing physician, I knew this was an unusual presentation for "asthma," I started researching to find the cause, and that is when I discovered she had Mast Cell Activation Syndrome (MCAS), which EDS causes. MCAS is a condition that causes hives and SOB due to histamine release from mast cells. This required a new treatment plan – not just asthma medicine, but we had to overhaul her whole diet to limit her symptoms.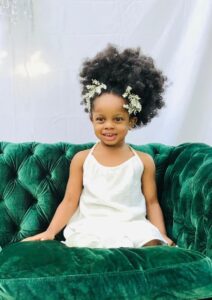 As a doctor, I have witnessed Black and Brown patients' worlds torn apart by misdiagnoses or inappropriate treatment due to bias in medicine. As a result of these experiences, I launched my organization Project Diversify Medicine, a digital community on Instagram with over 60,000 followers, with a mission to provide culturally inclusive pre-med educational resources to increase the admission of minorities to medical school. The need for diversifying medicine when research shows our community has poor health outcomes. The stats are endless about disparities in treatment from Black maternal mortality rates are four times higher compared to white mothers. Black babies are three times more likely to die in white doctors' care than Black doctors.
Now as a mother who stood in the same shoes of the thousands of patients I treated, I was reminded that even my white coat couldn't protect my family or me from the sting of bias in medicine.
My husband had lived for 40 years, received healthcare from multiple clinics across the country, and was never diagnosed with EDS, ultimately leading to my daughter's death. Meanwhile, as a physician, I have seen the care for white patients – it is more thorough, meticulous, softer, and more empathetic.
The health system isn't perfect because human error can occur, but if it does happen, white patients have a better chance of it being caught and corrected. Meanwhile, no one even stopped to diagnose my husband or anyone in his family with this genetic disorder for 40 years. If it weren't for my medical education, we would have never known my children and husband had EDS and MCAS.
This is why we must stand up and start advocating for increased diversity in medicine. The amount of medical bias flowing in our health systems amongst individuals with high GPAs and MCATs shows metrics are not the only indicator of doctor quality. I am a doctor in the U.S. medical system with access to quality healthcare and insurance, yet Vivian went undiagnosed by doctors.
Through our pain, we seek to heal through our #VivianMonroeStrong initiative to champion health systems with protocols and oversight committees in place to address medical bias in real time rather than wait until a catastrophic event occurs. Many organizations bulk at the idea of oversight, but at this point, given the sheer amount of harm that continues to happen at hospitals across this country, even at distinguished institutions. We also plan to provide resources for patients to navigate the health system and become advocates for their health.
Our rainbow ended because of medical bias, and through our work, we are committed to being the rainbow in the lives of others because everyone deserves equitable care. We will continue to fight and be #VivianMonroeStrong.
Dr. Ashley Denmark is a physcian, activist, and the founder of Project Diversify Medicine.