The best season of the year is right around the corner, and you can spread some holiday cheer at work by wearing some festive holiday scrubs. Change out your regular monochrome scrubs for colorful holiday-themed patterns that are sure to lighten the mood. You can put a smile on your colleague's or patient's face as you make the rounds. Wearing a festive uniform is a great way to make the hospital or doctor's office feel normal around this time of year, especially if you are working with young children.
Here are some of the best holiday-themed scrubs to get you and your team excited for this special time of year: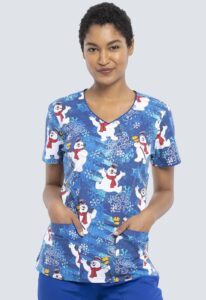 Your favorite animated snowman has come to life once again on a pair of scrubs. Cherokee Uniforms has made a range of Frosty-themed tops for nurses. They come in a range of sizes to fit your body type. If some of your young patients have never heard of Frosty, you can tell them the story of how this magical snowman came to be a household name. Complete the look with this signature Frosty scrubs hat.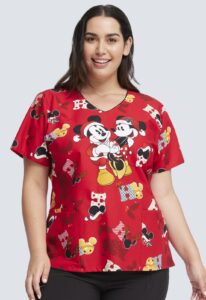 Micky and Minnie Holiday Cheer V-Neck
Celebrate the holidays at the Mouse House. These charming red scrubs feature an adorable picture of the happy couple dressed as Mr. and Mrs. Clause. It's perfect for anyone that works with a Disney lover.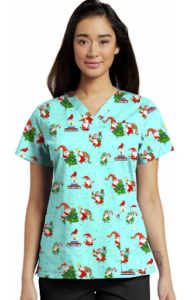 If you're looking for something unrelated to your favorite childhood cartoons, try this seasonal Santa top to bring out the good vibes at work. It comes in a light blue turquoise color with adorable drawings of a tiny Santa and his sled. It will get all your patients excited for the big day.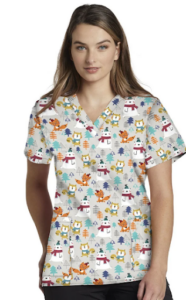 Calling all animal lovers! This affectionate scrubs top features adorable cartoons of friendly woodland creatures celebrating the holidays in their own way. There's a fox wearing glasses, a squirrel with a scarf, and the most innocent looking snowman you've ever seen.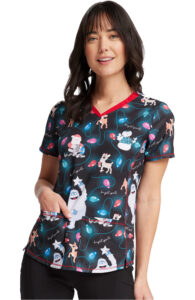 Rudolf Bright Spirits Scrubs Top
Lots of us grew up watching the clay animation classic Rudolph the Red Nosed Reindeer and wearing these themed scrubs from Tooniforms is a great way to introduce one of your holiday favorites to the next generation. It features a loving tribute to the cartoon with pictures of Rudolph, Santa, Sam the Snowman voiced by the one and only Burl Ives, and, of course, the Abominable Snowman. The only thing that's missing is the Island of Lost Toys!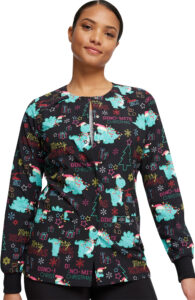 Have a dino-mite Christmas with this silly long-sleeve scrubs top from AllHeart. It has an adorable cartoon dinosaur tangled up in lights on the front and back.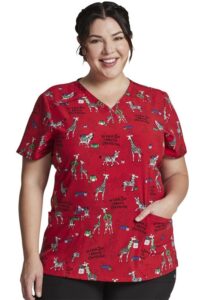 Dickie's Christmas V-Neck Top and Jacket
One of the best scrubs manufacturers in the world is back with its signature red pattern to help nurses celebrate the holidays. It's available as a snap-up jacket or as a V-neck top. Each one comes with dozens of zebras and giraffes to put a smile on any animal lover's face.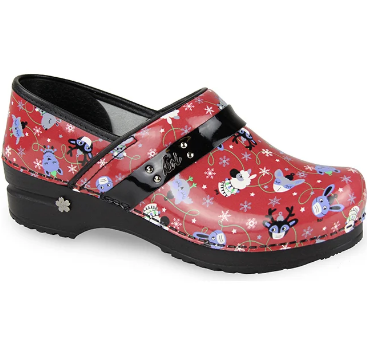 Don't forget to add a pair of matching shoes or clogs to make your look complete. Check out these festive clogs from AllHeart, featuring a slew of cozy characters against a red backdrop. Match it with a pair of red scrubs to stand out on the floor.
You can also show off your holiday style with elegant red and green scrubs from Healing Hands. Try the Tera Pant in Hunter Green to get into the Christmas spirit. It goes perfect with their Jasmin top in the same color. Mix up your style with red and green scrubs to brighten up your workplace.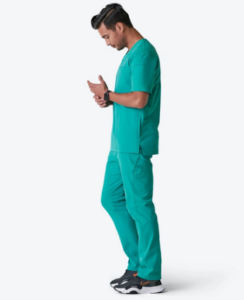 You also can't go wrong with traditional turquoise green and maroon scrubs this time of year. Medelita is known for making performance-minded medical apparel that will fit your body comfortably on the job, so going to work doesn't feel like such a chore. Get your name embroidered into your scrubs to create a welcoming environment for your patients.
Turn every day on the job into a holiday celebration with these must-have festive scrubs. They are just what you need to spice up your time at work as you countdown to one of the biggest days of the year. If you have to work on Christmas Day or Christmas Eve, these outfits will help you and your patients make the most of your time together.