This post is sponsored by Cherokee Uniforms, Heartsoul and Dickies.
Virtually every profession has a uniform or dress code, and those that require a college degree tend to have higher standards. Whereas a simple polo shirt and khakis will do for slinging fast food or manicuring lawns, working in a corporate office requires a bit more je ne sais quoi, complete with suiting, or at least a button down or blouse.
It seems strange, then, that the medical industry has so long relied on boring, boxy scrubs for everyone on staff, from nurses to neurosurgeons. Naturally, there is a practical aspect to wearing protective clothing that patients can easily pick out to identify professionals in the hospital setting.
However, considering the amount of schooling medical professionals undergo to reach their elite status, it would make sense to offer a more fashion-forward uniform. Doctors don't have to look like they hopped off a runway in haute couture, but adding some fashionable flair to their ages-old uniforms couldn't hurt.
As it turns out, several brands are on the bandwagon when it comes to updating staid medical scrubs and giving professionals the stylish options to update their work wardrobes. Companies like Cherokee, Dickies, and Heartsoul have their finger on the pulse of the medical community, and they've gone above and beyond to instill stylish sensibilities into the average set of jogger scrubs.
Their latest offerings include trendy jogger scrub pants that look like they came straight from the closets of Kanye, the Kardashians, or the Hadid sisters. Medical professionals looking to adopt the sleek, stylish, comfortable, and practical jogger trend will have no trouble updating their work look, with plenty of fitted, yet functional offerings to choose from.
Cherokee Infinity Line
Cherokee Infinity on Instagram
Fashion scrubs might sound like a contradiction in terms, but there's no reason these seasoned uniforms can't change with the times. Medical professionals fed up with baggy, one-size-fits-all scrubs can inject modern sensibilities into their professional getup with the latest offerings from Cherokee's Infinity collection, including women and men's jogger scrubs.
The Men's Natural Rise Jogger Pant comes in striking, masculine shades of black, navy, or pewter, with a natural rise waistline (complete with drawstring for the perfect fit), along with a stylish tapered leg and rib knit cuffs at the ankle for a modern look with practical appeal – no more stepping on loose, dragging cuffs when antiquated scrubs start to sag after hours of wear.
They will be your favorite scrubs in no time!
Five-pocket styling stores all your must-haves and four-way stretch poplin fabric is soft and comfortable, but also wrinkle-resistant, moisture wicking, and comes with antimicrobial technology, so it still looks fresh after hours of wear. Don them for work or on your off-time – this flexible wardrobe staple transitions seamlessly from scrubs to streetwear.
Cherokee also has jogger scrubs for women, such as their Midrise Tapered Leg Jogger Pant in six shades, from sensible black, navy, and pewter, to sensational ciel, wine, and royal blue hues. The comfort fit, rib knit elastic waistband and leg bands won't budge while you work, and the stretch poplin fabric offers up all the same benefits for these contemporary joggers as the men's line.
Dickies Dynamix Line
@DickiesUniforms on Instagram
Simple, yet stylish, the jogger scrubs from Dickies are made for the modern healthcare professional on the go. The Men's Natural Rise Jogger Pant comes in black, navy, or pewter with a rib knit elastic waistband for easy, pull-on utility. The functional drawstring is tucked away inside the waistband for a streamlined appearance and four spacious pockets (two front, one back, and one cargo side pocket) provide ample room for wallets, keys, cell phone, and your pens and prescription pad. Regular, short, and tall fits available.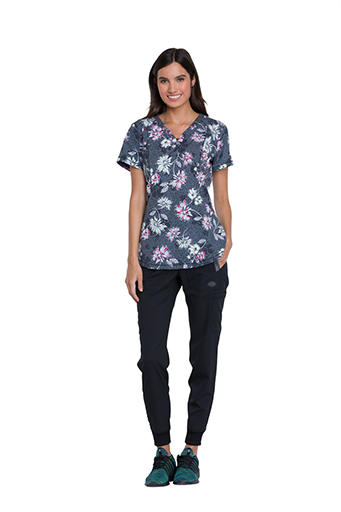 The women's Natural Rise Tapered Leg Jogger Pant is equally appealing. While it comes in the same three shades as the men's version, added tone-on-tone detailing on the mélange knit waistband and front and back pocket openings provides chic and eye-catching flair that elevates the look of an otherwise standard pair of jogger scrub pants. Healthcare professionals will love the stylish, yet flexible fit that moves with them throughout the workday, along with the addition of two side pockets for extra carry capacity. Regular and petite fits available.
Heartsoul Break on Through "The Jogger"
@HeartSoulScrubs on Instagram
This offering for the ladies features the tapered leg one would expect from a stylish pair of scrub pants yet paired with a low rise that's sure to appeal to more youthful healthcare workers. A functional drawstring waistband, front and back pockets and a zippered side pocket, and fitted, tapered legs ending in tidy, rib knit ankle bands provide the utility to get through long shifts. Six color choices (black, navy, pewter, ciel, wine, and royal) and heat transfer triple-heart and dotted-heart graphics inject a dose of personality.
Whether you're donning jogger scrubs for a long shift at the hospital or pairing them with a sleek moto jacket and trainers for a casual cool vibe on your off-time, you'll find that replacing your old-school medical scrubs with this modern alternative not only upgrades your work wardrobe, but adds an essential, everyday piece that you can dress up or down, depending on the occasion.