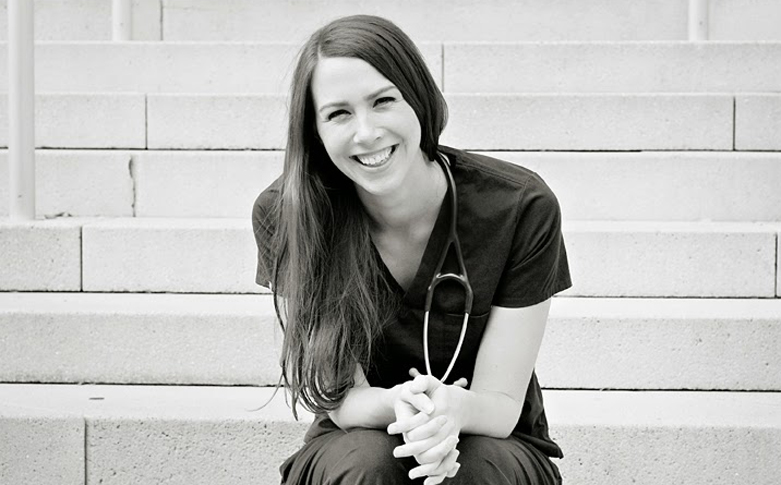 He sido muy bendecida en mi corta carrera como enfermera. He trabajado en algunos hospitales increíbles y he tenido compañeros de trabajo aún más impresionantes. He trabajado en diversas áreas de diferentes hospitales y, mediante eso, creo que he descubierto lo que significa ser una buena enfermera.
Existen hechos sobre ser una buena enfermera. Tener una licencia de enfermería y un trabajo no te convierte en una buena enfermera. Trabajar durante 30 años no te convierte en una buena enfermera. No se trata de ser una buena colocadora de vías o ser la mejor amiga de todos los médicos.
Es mucho menos preciso y calculable que eso. No se mide por las siglas después de tu nombre, tus certificaciones, afiliaciones profesionales o subiendo de rango en el trabajo.
Es algo que sientes cuando ves a una buena enfermera cuidando de sus pacientes. Es esa seguridad que ves en los ojos de sus pacientes cuando vienen a cuidarlos. Es esa enfermera ante la que los familiares del paciente terminarán por irse a su casa a dormir y ducharse porque saben que su ser querido está bien cuidado por esa enfermera.
Las buenas enfermeras respiran instinto. Respiran sensatez. Las buenas enfermeras pueden elegir cosas aparentemente insignificantes sobre un paciente, interpretar un complejo cuadro clínico, de alguna forma predecir un mal resultado y comunicárselo al médico, literalmente salvando la vida de alguien.
Y luego está ese conocimiento sobre el corazón que poseen las buenas enfermeras que me emociona aún más.
Están esas enfermeras que siempre saben lo que se debe decir. Saben cómo calmar a una madre preocupada y asustada lo suficiente como para dejar que cuiden de su hijo.
Saben cómo explicar otra vez las peores noticias que un esposo escuchará alguna vez porque no tenía sentido cuando el médico lo dijo hace 15 minutos. Y saben cómo consolarlo y tranquilizarlo cuando ven que comprende que su esposa se ha ido para siempre.
Saben cuándo sentarse y escuchar a un hombre contar toda la historia de su vida, quien acaba de enterarse de que básicamente está muriendo lentamente. Ellas saben cómo hacerlo sentir importante, valorado y cuidado. Saben que ahora esa es su prioridad, no graficar el examen que acaban de hacerle a su último paciente o ver si su compañera de trabajo necesita ir a almorzar.
Son las enfermeras en cuyos instintos confían todos los médicos.
Saben cómo hacer que las compañeras de trabajo que se lleven mal trabajen juntas.
Saben cuándo necesitan hacerle una intervención de adicciones a quienes no aceptan el peligro de las decisiones que están tomando y que literalmente los están matando. Y ellos las escuchan.
Son ellas con quienes los pacientes, las familias y los compañeros de trabajo se sienten cómodos siendo dolorosa y vergonzosamente honestos.
También saben, cuando las cosas comienzan a desmoronarse, cómo tomar rápidamente el control de una habitación llena de personas histéricas. Saben cómo transmitir urgencia, no pánico. De alguna manera te hacen sentir seguro cuando la vida de alguien está literalmente desalentada.
Esas enfermeras son mis heroínas. Ellas son quienes aspiro a ser cada vez que me coloco mi credencial en la mañana. Ellas son quienes espero haber sido cuando salgo. Son las buenas enfermeras.
Para leer más, visita NurseEyeRoll.com.
Aprender a ser una gran enfermera al cuidar a tus pacientes mientras mantienes la cordura en casa no es una tarea fácil. Becoming Nursey: From Code Blues to Code Browns, How to Take Care of Your Patients and Yourself (Convertirse en Enfermera: desde el Código Azul al Código Marrón, Cómo Cuidar de Tus Pacientes y de Ti Misma) habla sobre cómo vivir de manera realista como enfermera, tanto en casa como al cuidar a los pacientes… con un poco de humor y algunas travesuras en el camino. Prepárate: se trata de convertirse en una verdadera, verdadera enfermera. Puedes obtener tu propia copia en NurseEyeRoll.com (pdf), Amazon (paperback) or Goodreads (ebook).