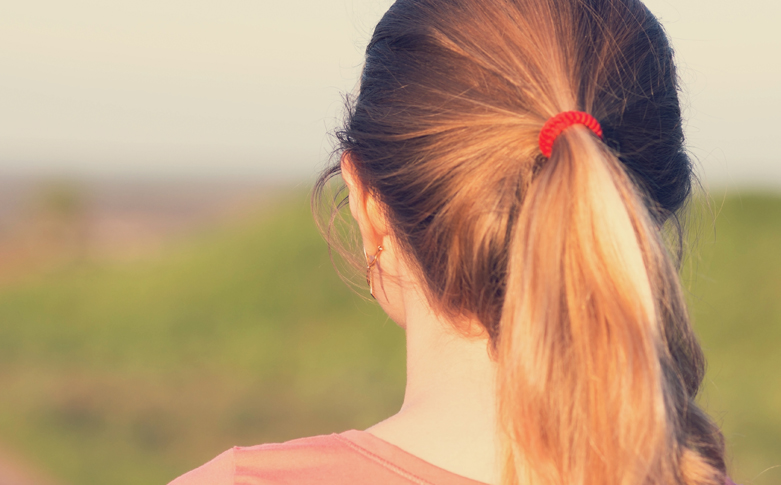 Shutterstock | fantom_rd
Nurses, we know your "me" time is limited, and it seems as though there are a thousand items you have to barrel through on your checklist before you can even start thinking about basic hair care.
Don't even get us started on styling.
That said, while we can't rein in your schedule for you (we're still working on that—stay tuned), we can offer a few tips and tricks that might help curb some of your chief hair care concerns.
The goal? Minimize time and effort, maximize the "ka-pow."
1. Let your cut cater to you.
Unless you're ready to commit to some serious styling, your haircut should work with—not in spite of—your natural texture.
If your hair is curly (or wavy): Opt for a length that is medium to long—more hair means more weight to prevent too-tightly wound curls and minimize frizz. As for layering—don't, or else try to aim for "minimal." Not only will your curls require quite a bit of styling, but hair also will be damaged in the process. When styling, play into your curls, separating them with your fingertips so they fall a little more loosely.
If your hair is straight or fine: Consider a shorter hairstyle so as not to add too much weight, which kills volume. A style that sits slightly above the shoulders and sports long, varied layers will add a little "oomph" to finer hair. Just beware of excessive layering, which can make your hair appear thinner, and layers shorter than your chin, which can't be drawn into a sleek ponytail in a pinch.
2. Be kind to your hair.
Treat your hair as it wants to be treated and you'll spend less time battling it each morning (not to mention fewer visits to the salon).
The formula is simple: Shampoo less often, condition your ends and apply a heat protectant before turning to the blow dryer.
For those of you with oily hair, there's no need to purchase a lifetime supply of dry shampoo to cut back on the washing. Cornstarch does wonders to absorb grease and oils without creating a powdery look. For darker hair, combine 2 tablespoons of cornstarch with 2 tablespoons of cocoa powder.
Finally, it doesn't hurt to deep-condition every once in a while. Try this DIY hair mask recipe, which only requires items you're likely to have on hand.
DIY Olive and Honey Conditioner
Try this remedy to soothe and strengthen damaged hair.
What you'll need:
6 tablespoons extra virgin olive oil
4 tablespoons honey
1 bowl and spoon to mix
1 hair clip and shower cap
Mix the olive oil and honey together in the bowl and apply to clean, damp hair, working it into your scalp. Twisting your hair into a bun, cover it with a shower cap and let it sit for 30 minutes before rinsing well under warm water.
3. Take a tactical approach to highlights.
If you want highlights that aren't going to be giving way to dramatic roots anytime soon, stick with highlights that are within two shades of your natural hair color. The contrast will be minimized and you can perform touch-ups at home—just be sure to make full use of a comb applicator.
4. Sleep and style…simultaneously.
Wake up to a self-styled look by taking just a few extra steps the night before. Here's how:
Wash your hair just before hitting the hay.
Towel it dry.
Apply a light mousse or gel.
Wind your hair into two buns, securing the buns on either side of your head using elastic bands (braids can also be used). Go to sleep.
Loosen hair in the morning for soft waves.
Note that the tighter the buns and/or braids, the tighter the waves.
5. Prioritize.

If you're running late for a shift, compromise by blow-drying only those sections that will be visible, such as any outer layers and the hair that frames your face. Add a dab of serum to keep things from getting out of control. The same goes for dry hair that you're looking to either curl or straighten.
We're always looking for more helpful pointers to share with busy nurses—have any hair care tips of your own? Leave them in the comments section below!