5 scrubs tops that bring the bling
Sometimes, you feel like you're on top of the world; other days it's hard to roll out of bed. One sure way to supercharge a great mood or give yourself a boost when you're feeling low is to express exuberance in your clothing. The following fancy scrubs tops feature eye-popping designs or decorations that will ensure you stand out from the crowd.
Nurse, Princess—What's the Difference?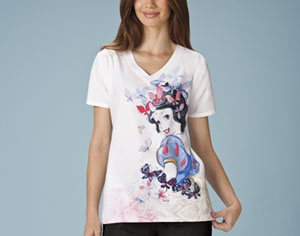 As a nurse, you definitely don't get to play "Sleeping Beauty" very often. So, pick Snow White as your favorite Disney damsel to take to work for those long shifts. This top is bold and beautiful—just like you. Find a form-fitting, yoga-style scrubs pant to match for a soft, feminine effect.