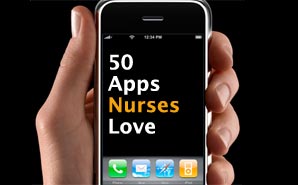 Are you a busy nurse? There's an app for that. In fact, there's an app for every area of your life, be it your break time, your busiest shift or life outside of work.
We polled thousands of nurses and came up with the 50 apps that nurses are obsessed with right now for music, humor, work solutions, weight loss and even tuning a violin!
Yup. There's an app for everything. Did we miss your favorite? Add it to our comments!
Fun and Games
1. Top App: Pandora — Create a station based on a favorite song or artist and discover new tunes!
Why nurses love it: "Love the ambient station." —Nurse Michaela
More games and entertainment apps that nurses are loving right now:
2. Jewels — A simple yet polished match-3 puzzle game. Just the right ingredients for an addictive game.
3. Ghost Radar — Got a dark supply room you need to go into? Download this paranormal activity detector first. Or get slimed. Up to you.
4. MP3 Music Downloader — Shop 16 million songs and play music on your mobile device.
5. Facebook — If you haven't abandoned ship for Google+, you probably have this app on your phone already.
6. Plants vs. Zombies — "Use your arsenal of 49 zombie-zapping plants—peashooters, wall-nuts, cherry bombs and more—to mulchify 26 types of zombies before they break down your door." Sounds like fun, right?!
7. Sudoku — It's been a top 100 app in iTunes for over a year. And it's free. So…what are you waiting for?
8. iHeartRadio — Listen to America's best music and talk stations.
9. Words with Friends — A great version of Scrabble that you can play with multiple friends. There's a free version, too!
10. Shazam — Discover, buy and share the song that's playing.
11. Solitaire — Have a couple minutes to kill? Choose from a variety of pretty backgrounds for this go-to card game.
12. Angry Birds — Download the nation's favorite obsession!
13. iBooks — Download books to your beautiful mobile bookshelf. Help your children to read with the "read aloud" feature.
14. YouTube — This is a total must-have!
15. SquirrelCam — Watch wildlife live on your phone!
16. TV listings — The official TV Guide app lets you check listings and get all of the latest entertainment news.
17. iRecord — Record videos, movies and music.
18. Nook — Read your favorite books, newspapers and magazines and sample titles for free.
19. Bejeweled Blitz — Do we really need to explain this one?
20. Mahjong — The classic game now on your mobile phone.
21. Wordament — Real-time multiplayer word game!
22. Zentimino — This low-pressure puzzle game is meant to be challenging but relaxing!