The personality traits of a successful clinical nurse are pretty basic: be compassionate, be empathetic, and communicate effectively. These traits work well across the nursing career board, but some specialties will require a bit more. If you are looking into a nursing home or other long-term care facility as a career option, you should first evaluate your own feelings and personality to ensure that you will make the best candidate.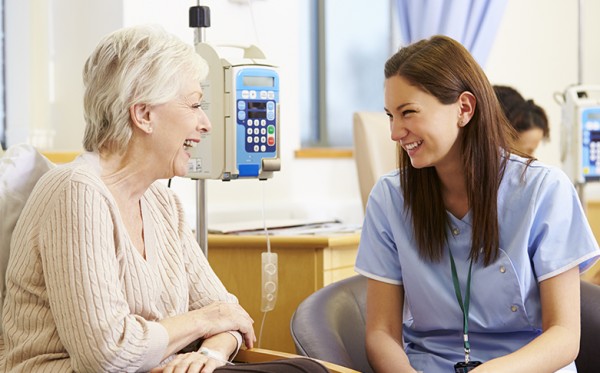 What Does Long-Term Nursing Care Entail?
Long-term nursing care is reserved for those individuals who need assistance in performing tasks and activities that most can do on their own. This could be as severe as tracking the vital signs of those in a vegetative state or simply helping the elderly take their medication in an assisted living situation. Both personal and health care needs are attended to by qualified nurses, some of whom have received extra training to work in these settings.
Aging and health are top contributing factors for the need for long-term nursing care. As a nurse, your main duties will be in seeing that each patient's needs are being met every day. This could include feeding, bathing, and getting them dressed. Depending on the setting, it could also mean health assessments and administrating medication. You will be spending a good deal of your time with these patients, learning their individual needs and preferences as you get to know them better.
Long-term nursing care for the patient may only last a few months as they recover from a debilitating illness and learn to cope with a disability. You might also work with patients who need this type of specialized attention for years after they have lost cognitive skills from Alzheimer's disease, stroke, or an accident. If you are considering putting your nursing skills to use in a long-term care setting, you should be prepared with the knowledge that you will inevitably build relationships with your patients as you care for them on a daily basis for extended periods of time.
What Personality Traits Should You Highlight for a Long Term Nursing Care Position?
All critical care facilities want to hear that you are a team player, compassionate, and have great communication skills. If you are completing an application for a long-term nursing care position, there are some other personality traits that will make you stand out as a better candidate:
Emotional Stability – The ability to be able to accept suffering and even death is intensified with long-term nursing care due to the amount of time you spend with each patient. Mention your resilience in the workplace when seeking a job as a long-term care nurse.
Empathy – Understanding the frustrations of a patient who is adjusting to a new way of life is a critical trait in long-term care. You will be the patient's advocate at times, so being able to put yourself in their shoes to understand their needs will be a big asset to have.
Information Retention – Long-term care requires you to get to know your patients on a more personal level. Having great memory skills to keep track of names, family members, and even favorite TV programs will help patients to feel at ease with you.
Interpersonal Skills – Basic communication skills are put to the test when you are working with same patients and their families on a long-term basis. You will need to be able to translate complex medical jargon into conversational language and discuss intimate issues in a way that makes the patient and their family feel comfortable.
Problem Solving Skills – Your skills are going to be tested above and beyond changing IVs and taking vital signs when you work in a long term care facility. You will have to think fast on your feet to come up with solutions to any number of issues your patients are facing. In this setting not everything is solved by the physician, in some cases, it will be solely up to you to solve care problems when they arise.
If you possess these traits in your personality, be sure to highlight them when campaigning for an employment position. Working in long-term patient care requires unique skills in a nurse in order to create a positive experience for the patient and their family members.
Long-term care facilities provide a different type of work environment for nurses. This is a rewarding specialty that requires you to put your heart and soul into every individual under your care. If that sounds like an environment you will thrive in, stress those traits that will make you an ideal candidate.