Inside the Fall 2010 Issue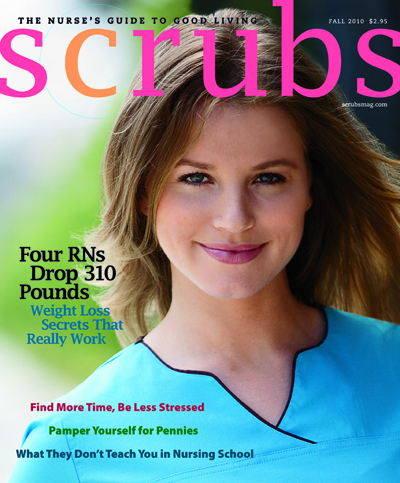 FEATURES
---
Winning at Losing
Four RNs who beat the battle of the bulge reveal their weight-loss secrets. By Tajinder Rehal
Check out more weight control tips and myths, plus terrific recipes from the nurses profiled in the magazine.
The Art of Nursing
Science is just part of the job. It doesn't explain how much you tell a patient about chemo or what you say when a coworker bullies you. An oncology nurse delves into the heart of medicine. By Theresa Brown, RN
Take Some Time
Don't have a minute for yourself? Always putting others' needs ahead of yours? Here's a three-step strategy that'll help you lay claim to a little more "me" time. By Lesley Alderman
Learn simple tricks that put an end to rushing.
Pretty for Pennies
Smart tips for skimping on primping from pros and nurses in the know.
A Portrait of the Nurse as a Poet
The sudden loss of a patient propelled her to pull out her notebooks and write. Here's how she discovered the rhythms of a dual career as a nurse and poet. By Cortney Davis, RN
Listen to Davis read her amazing poetry.
A Passion for Postcards
Through his gorgeous collection of historic images, an ER-turned-hospice nurse shows just how pervasively his profession has left its stamp on society. By Michael Zwerdling, RN
Click through a delightful gallery of vintage nurse postcards.
Many Thanks
Why being on the receiving end of gratitude can be so, well, gratifying. By Daryn Eller
VITAL SIGNS
---
News for Nurses on Life, Style and Work
• Nurse Dennigan goes to Washington • Cast the Movie! • Fitting to a T • Desktop Nursing • Camp Nurse • What's on Nurses' Nightstands?
Online:
IN EVERY ISSUE
---
Editor's Letter
– Take the quiz to see: Do you need new scrubs?
Expressions Sketch Therapy – A nurse realizes the power of her pencil. Submit your own art for inclusion in our next issue of Scrubs Magazine!
---
Where to buy
Find a retailer
Want your own copy of Scrubs Magazine? Print editions are now available at retailers nationwide!