Inside the Fall 2011 Issue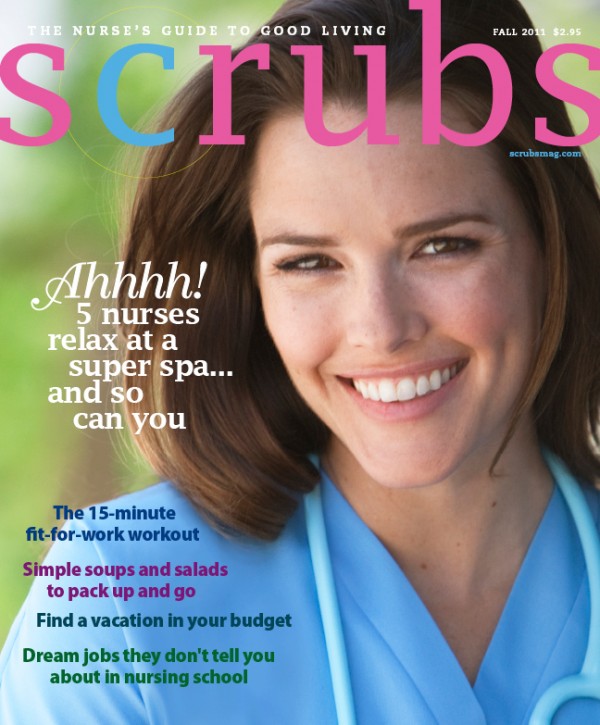 FEATURES
• A Spa Day
A team of nurses gets the royal treatment at exhale mind body spa…and we got all the tips and tricks from the pros so you can treat yourself to some R&R at home. Nurses who read Scrubs magazine get a special discount at all exhale locations (see the magazine for details)! By Bora Chang
ONLINE: Take the stress test and decide if you, too, could use some spa time!
• The Fit-for-Work Workout
Easy exercises to stretch and strengthen the muscles that can keep you out of harm's way. By David A. Boley II and Shane Boley
ONLINE: Six exercises you can sneak into your workday created by and for nurses!
• My 40-Year Love Affair with Nurses
When a lifelong patient looks back on how he survived so many medical emergencies, it's not his doctors who come to mind. By Dana Jennings
ONLINE: More tributes to nurses, including our favorite tributes from the public, a tribute from a new nurse to experienced nurses, a tribute to ED nurses, and doctor tributes to nurses.
• Nice Job!
Seven amazing places to work that no one ever mentioned in nursing school. Imagine: Disneyland, Yosemite and—yes!— even Air Force One. By Daryn Eller
ONLINE: The top 10 highest paying nurse specialties and The nursing job market overview
• The Multitasking Chicken
With one foolproof recipe for a great roast chicken, you can serve dinner tonight…and make a super soup or salad to take to work tomorrow. By Mindy Fox
ONLINE: More brownbagging ideas, including the top three mid-morning snacks for nurses.
IN EVERY ISSUE
• Vital Signs – News for nurses on life, style and work.
ONLINE: Nurses share their favorite reads.
• Finds – Savvy, stylish options for keeping things in their proper place. See these and more finds on our site!
ONLINE: The organized nurse
• Editor's Letter – A big thank you to the team who took care Maggie, a little girl whose cancer nurses made her days and months not just bearable but fun.
• Expressions – A nurse uses the color white to explore the many meanings of the symbol of purity in her artwork.
ONLINE: Click through a gallery of her work.
• Scrubsmag.com – Did you see the ad for our site in the print magazine? Here are all the links we featured: • Free Downloads • Humor • Videos • Scrubs Style • Lists
WHERE TO BUY
Find a retailer
Want your own copy of Scrubs Magazine? Print editions are now available at retailers nationwide!