My patient said what on the Press Ganey survey?!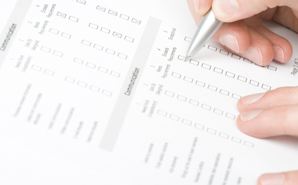 It's sad but true: Sometimes patients think nurses are only around to be their own personal service staff (never mind that whole "keeping people alive" business)! The Press Ganey survey often is indicative of that mentality. We asked our Facebook fans about the funniest complaint they've ever received on a Press Ganey survey; their responses will make you laugh out loud (and shake your head)!
We had a family once complain that the nurses were "too happy and too smiley" when we went into their mother's room. (Their mother's condition was not serious or anything of that nature.) Just goes to show that we can't win 🙁
—Dawn Short Straley
Our hospital didn't have Splenda…made it into the Press Ganey!
—Delia Walck-Larson
A patient complained that the room smelled. He had a GI bleed. Not a whole lot I can do about that smell, sorry!
—Jennifer Jenkins
"The food [delivered from the standard meal cart] was too hot. Not spicy hot, temperature hot." What??? Trust me, the food is lukewarm!
—Allison Southworth Gibeault
A detoxer given beer with dinner complained about the brand.
—Debbie Dorsett
We had a complaint that the hospital stocked Pepsi products and not Coke….
—Jennifer Raymond
This is no joke: "I got terrible sleep. Not only are the beds uncomfortable, but my roommate was dying all night and his breathing was very noisy. All the staff kept coming in and out. Everyone should have private rooms."
—Gladys Pico-Vielma
We have had patients distressed that we checked on them too much…umm…you're in a hospital for a reason!
—Mary Margaret Terry
What's the funniest complaint you've ever received on the Press Ganey survey?