Nurse wins national award for her work with grieving families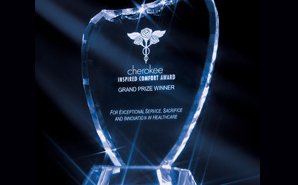 In October 2010, Jill Zuleg, RN, lost her teen son Kyle after a devastating accident. The Zulegs opted to donate Kyle's organs, but felt something was missing for them as a grieving family during the emotionally difficult process of finding organ matches.
"I wanted to help other families going through the organ donation process and to help bring awareness for organ donation after the loss of Kyle," said Zuleg, who is a resident and obstetrical RN with Edward Hospital in Naperville, Ill. From that selfless goal, the Kyle Zuleg Foundation was born.
The Foundation supports families at the bedsides of their loved ones during the organ donation process, giving them warm blankets and gift baskets to comfort them. For her work with the Kyle Zuleg Foundation, Zuleg was a top national winner of a 2012 Cherokee Inspired Comfort Award.
The beautiful video below gives an in-depth look at Zuleg's work. We're inspired by this strong, caring nurse and her selfless work helping other families through tragedies.
Sponsored by Cherokee Uniforms