Nursing Abroad: Becoming An International Nurse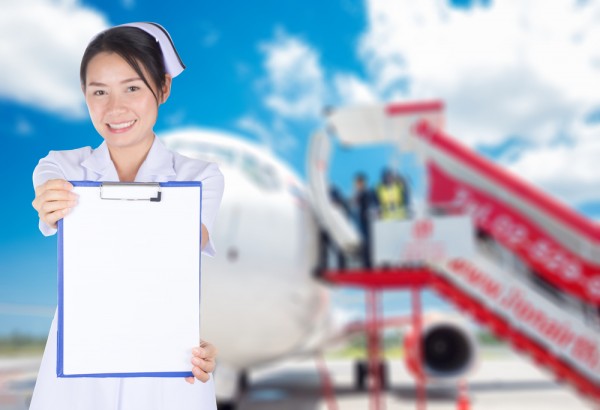 Even if you got your degree in the US, it's not necessarily the only country where you can practice medicine. You can actually find nursing positions in other countries, giving you a great opportunity to travel.
The skills and education of nurses from the US is considered highly desirable in other parts of the world. Especially in developing nations, there's a shortage of educated medical professionals, and staffing problems are leading them to try to attract American nurses. You may have seen advertisements for these positions in some of the nursing journals.
What Do I Need, to Practice Internationally?
To practice abroad as a nurse, you will need at least an ASN (Associate of Science in Nursing) or a (BSN), Bachelor of Science in Nursing. You'll also need to pass your National Council Licensing Exam (NCLEX-RN). You'll also need some experience working as a nurse in the United States.
You may also need to be able to speak the local language in whatever region you're working in. Communication is very important in healthcare. Practicing medicine safely will depend on your ability to speak with your patients. Some overseas hospitals may employ translators or interpreters who can help you, but it's really best to learn the language before you leave the United States. Having at least a basic knowledge of the language will go a long way toward helping you practice effectively in a foreign country.
Talking with Recruiters for Overseas Nursing Jobs
As with many professions, there are recruiters who help hospitals find nursing staff. And believe it or not, there are also recruiters for hospitals located overseas. If you look around, you'll find ways that you can get into contact with them. Their role actually goes further than just hooking you up with a job abroad. They can also help you find things like banking institutions, housing, and other things you'll need, which may work differently in another country than you do in the United States.
Getting The Legal Aspects in Order
To work overseas, you'll probably need some sort of visa. In most cases, the hospital or other facility that hires you will assist you in getting one. You'll need to prove that you're licensed as well. Some countries might actually have a separate registration authority which you'll need to get into contact. This is more common in countries like Canada and the United Kingdom than in developing nations. Some examples include:
The Nursing and Midwifery Council of the UK

The Australian Nursing Council

The Irish Nursing Board

The Australian Nursing Council

The Nursing Council of New Zealand

The South African Nursing Council
Working Overseas for the US Government
You can travel independently to work overseas, provided you have the right licensure and visa, but the US Government also offers opportunities for nursing abroad. This could be through the CDC, or through the Department of Defense. The CDC, in particular, hires people for several different subtypes of employment.
Career civil service.

These workers are federal employees, who are hired through

the US Government's official job site

. This is mostly health scientists, epidemiologists, medical officers, and public health advisors.
Non-personal service contracts.

These workers work for contracts that the CDC has arranged with private companies worldwide.
Fellowships and internships.

If you're a recent graduate or a nursing student, you may be able to find training programs through the CDC related to public health.
US Public Health Service Commissioned Corps.

This uniformed non-military service offers competitive pay, benefits, and retirement packages. They do hire nurses, along with other medical professionals like physicians and dentists.
How Do I Stay Safe If I'm Traveling Abroad for an Extended Period of Time?
If you're traveling to a developing nation, it's natural to be a little concerned about safety issues. Here are some things you can do to ensure your safety, no matter what country you're heading to.
Have a signed, valid passport.

When traveling abroad, you'll want to keep your passport with you. It will be an important form of personal ID. Fill in the "Emergency Information" section inside the passport, in case anything happens.
If you're in trouble, contact the nearest US Embassy.

A country's US embassy will be able to help you if you're in trouble.
Visit this government website.

It will let you know whether a given country is considered safe to travel to or not. It will let you know about possible dangers, local laws, and any immunizations you may need to get before you leave.
Nursing Overseas Can Be a Very Rewarding Experience
Travel is something that can really enrich you as a person, especially when you travel for an extended period of time and actually live in another country. There are opportunities to nurses abroad that you can consider if you want to expand your horizons and help people throughout the world.