Are you an expecting nurse? Congratulations! The last thing you should have to worry about is what to wear to work during your pregnancy; fortunately, there are some great maternity scrubs tops out there, many of which come with a knit drawstring for adjusting the size, so you can keep wearing the same clothes as your baby bump grows.
With that in mind, we were inspired to pull together our favorite maternity scrub pants and tops for soon-to-be moms. Not only do these practical tops look great, they're also super comfortable. Ready. Set. Let's go shopping!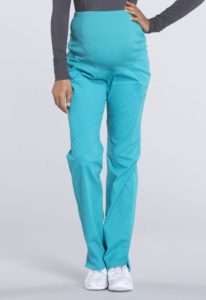 If you're looking for maximum coverage for your baby bump, these pants have you, well – covered. They come with a soft, form-fitting middle section that goes over your stomach as you move through your pregnancy. It gives you plenty of room to grow without leaving you unsupported during your shift. The side pockets help you keep various essentials on hand, so you don't have bend over or look around for the things you need. With so many colors and sizes to choose from, you can find the right pair of scrubs pants, regardless of your body size.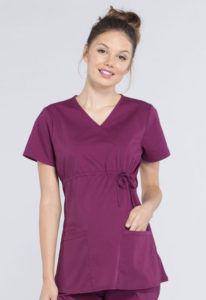 Who says you have to switch out your scrubs top just because you're pregnant? This surprisingly spacious mock wrap top will serve you well whether you're eight months pregnant or still waiting for your baby bump. It comes with a knit drawstring loop that conforms to the shape of your belly. Just loosen or tighten the string depending on your size. You'll feel so much better wearing scrubs that conform to the shape of your body rather than wearing a loose, shapeless piece of fabric. All that excess material can get in your way when you're saving lives. Look your best on the job with this colorful top from Cherokee Uniforms.

MATERNITY KNIT WAIST PULL-ON PANT
If the straight leg option isn't for you, you can always go with these stylish pull-on maternity pants from Cherokee. The moderate flare leg gives you more room to breath on the floor without getting in the way of your shoes. The cargo and back pockets won't give out like some other scrubs. You can stuff all your gear in there without ripping the seams. The knit adjustable waist will keep its stretch for years on end, so you can even save them for baby number two!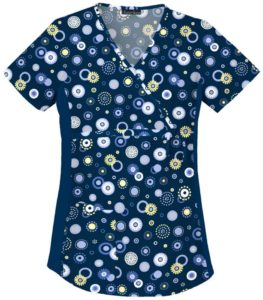 MATERNITY MOCK WRAP KNIT PANEL TOP
We could all use a little bit of color around the office. This mock wrap top is sure to get some attention in and out of the hospital. It comes with everything you'd expect from a quality pair of maternity scrubs, including the company's signature adjustable drawstring for expanding and collapsing the mid-section. The pattern features bright yellow and blue shapes for putting a smile on your patient's face.
In the comments below, tell us all about your favorite maternity scrubs tops, where you got them and how your hospital's scrubs policies have affected your scrubs choices!
Psst! Don't miss these 6 tips for a happy, healthy pregnancy while working as a nurse.
Sponsored by Cherokee Uniforms