The Bahamas is a group of 700 islands, 30 of which are populated. Many areas are battling a shortage of medical facilities and medical professionals – especially far-removed rural areas. This makes it a significant logistical challenge for the Bahamian Ministry of Health to reach much of the population with COVID-19 vaccine doses. Patient loads are heavy in more densely populated areas, and across rural areas, as one vaccination site would open, another would have to close.
One group of medical professionals and pilots wanted to do something to augment the Bahamian effort to vaccinate the people of the islands, and in June, they set out on an incredible journey to do just that.
Coming Together
June 20-26 was an exciting, rewarding week for five volunteer teams that were deployed across the Family Islands for the vaccination campaign. Versant, a company that offers competency-based healthcare solutions, and Sol Relief, an aviation logistics organization that provides relief and humanitarian support after disasters, joined forces to make the vaccination rollout a success. The Bahamas Ministry of Health and the Rhode Island National Guard also joined in for the undertaking, as did the DAISY Foundation and medical/aviation volunteers from across the U.S.
Working closely with the Bahamas Ministry of Health and the Office of the Prime Minister, a plan was put in place for twenty vaccination sites to be set up across nine islands. When all was said and done, thousands of Bahamians received doses of the vaccine. The teams included seven nurses, two doctors, and one physician assistant student, along with four volunteer pilots.
Combining the skills of Sol Relief and Versant resulted in a life-changing week not just for vaccine recipients, but also for the teams who traveled to the islands. The team knew they had an opportunity to help prevent disease in underserved areas instead of just reacting to the disease – and they didn't hesitate to take that opportunity.
Flying High for the Cause
The teams used small aircraft to deliver the medical volunteers and vaccines; four aircraft made 48 flights in support of the mission. The pilots worked day and night to transport vaccines, the volunteers, and Bahamian healthcare providers across the islands from the campaign's main base at Nassau Airport.
Some team members and others involved in the campaign hadn't ever flown before, much less flown in a small private aircraft. The four pilots jumped at the chance to marry their flying passion with something that helps people to such a high degree. "Give a pilot a reason to fly, and they'll fly!" stated Mike Carman, Versant Managing Partner and pilot, enthusiastically.
Rounding Up the Crew
Carman, who is very familiar with the Bahamas and actively involved with Sol Relief, realized a unique opportunity to combine Versant's healthcare mission with Sol Relief's aviation-themed humanitarian support capabilities to provide critical assistance to the Bahamian government's vaccination campaign. Chatter about it spread through Versant, and quickly reached outside of the company. He, along with Versant President Larissa Africa and Versant Manager Kristen Neisinger put feelers out to provider networks as they searched for healthcare professionals who were interested in volunteering. Word reached Mark and Bonnie Barnes of the DAISY Foundation, who brought the idea to the attention of DAISY honorees – a few of whom ended up going on the trip.
While ten medical professionals made up the final traveling group, the list of pre-qualified interested providers had initially been two-to-three times longer. "With COVID-19 still putting tremendous strain on healthcare systems and providers across the country, it's difficult for many of them to let go of their medical staff right now," explained Carman. However, the teams that brought the much-needed services to the Bahamas accomplished the goal they set out to achieve – a goal that was worthy of a group many times their size.
Being Fast Followers Instead of Leaders
The campaign was a tremendous logistical challenge for several reasons. According to Neisinger, the #1 challenge was waiting – waiting for everything from passport approvals, Bahamian COVID-19 visas, and Bahamian medical registration to paper validations and confirmations. Poring over Excel spreadsheets, submitting bundles of information together in organized packets, and other background tasks were started months in advance. Neisinger explained, "When the gates opened, so to speak, there was lots to do in a short amount of time. It was down to the wire. We even had one passport that was finally approved the day before we were scheduled to depart!"
The team knew that since they would be guests on the Prime Minister's and Ministry of Health's timeline, they needed to be flexible.
And they were happy to be exactly that; they were determined to do whatever was necessary to bring hope and freedom to rural communities across the islands. Pilots had to think about aircraft weights and balance calculations and flight planning; sometimes, people were given just minutes to get on a flight. In some cases, their intended destination would also change!
The nurses would make anyone in the nursing profession proud; they had to deal with less-than-ideal internet connectivity, unfamiliar (and sometimes uncooperative) computer systems, and logistical last-minute adjustments. The weather was a challenge as well – thunderstorm activity is a constant companion in the islands during the summer. Despite it all, there was nary a complaint to ever be heard.
"These days are long, difficult, and chaotic, with the need to make constant, real-time adjustments," said Carman. "You plan as much as you can, but you have to be able to react. So many people contributed their time, effort, and resources to this endeavor. I'm happy we had the opportunity to assist the Bahamian government in making a difference in people's lives."
Bringing Hope, Relief, and Health to the Underserved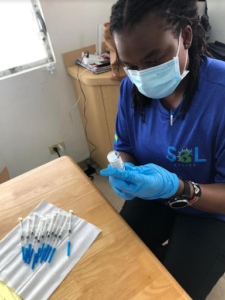 Residents of the Bahamas met the team with enthusiasm and gratitude, along with a bit of hesitation over the vaccines. The threat of COVID-19 has hit residents of the Bahamas hard, and they are cautious, fearful, and diligently compliant with COVID-19 regulations and guidelines.
The arrival of thousands of doses of the vaccine offered residents a chance at hope and relief; many people waited in line for hours to get their shot. Bahamians are exemplary in social distancing and wearing masks. Seeing the relief on recipients' faces was something no one on the traveling team will soon forget.
"It's meaningful for me to take something I'm passionate about [flying] and be able to marry it with my other passion [improving healthcare]," explained Carman. "It's amazing. To the citizens, the shot means freedom and safety, and we were able to deliver that. You can't fake relief. When people are tearing up with joy at receiving their shot, it completes our own lives."
The team also enjoyed an unexpected surprise when they were personally received by Dr. Hubert Minnis, Prime Minister of the Bahamas; the Hon. Renward Wells, Minister of Health, and other members of the Bahamian Government. The team appreciated the Prime Minister's perspectives on the COVID-19 pandemic, both as the sovereign and as a medical doctor.
Going for Round 2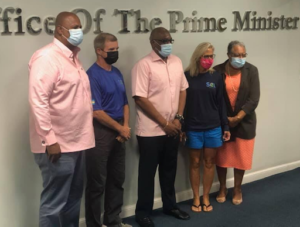 The experience of a lifetime is one that thousands of people touched by the campaign will never forget. Since the COVID-19 vaccine currently requires two doses for full protection, the challenge arises of how Bahamians will receive that 2nd dose. When asked if Versant and Sol Relief have any plans to go back and distribute 2nd doses, Mike Carman didn't hesitate to answer, stating that if the Bahamian government asks them for help, they'd go in a heartbeat.
And in fact, the "Dream Team" is planning its return trip in September to continue assisting the Bahamian Vaccination Program as we go to press!
Versant wishes to thank their partners in this effort: the Government of the Bahamas, Sol Relief, the DAISY Foundation, and the Rhode Island National Guard. Additionally, a heartfelt thank you to the dedicated doctors, nurses, and pilots who volunteered their time to make this campaign a reality.